TASHKENT -- The Uzbek government shut down 116 illegal hujras in the first half of 2018, compared to 33 during all of last year.
Preachers teach a distorted version of Islam at such underground schools, which are meant for children of secondary and primary school age, authorities explained in a TV programme -- "Darkness in a Hujra" -- aired by state TV channel Uzbekistan 24 on August 14.
The hujras flouted the law by hiring teachers who had no legal right to teach children and lacked religious education themselves, according to the programme. A majority of the teachers are accused of being violent and abusive and of using cruel punishments like starvation and solitary confinement.
The founders of all 116 hujras face criminal charges that include producing materials that endanger society and inflicting bodily injury.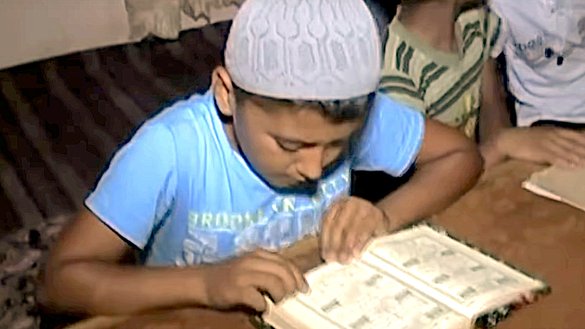 Beatings of pupils shake Uzbek society
One of the schoolchildren, six-year-old Mukhammadsadyk Abdurakhmonov of Surkhandarya (Surxondaryo) Province, died last December from beatings by Sherali Ibodov, a teacher at the child's hujra. A court already has sentenced Ibodov to seven years' imprisonment.
Radio Free Europe/Radio Liberty Uzbek Service correspondents reached out to Mukhammadsadyk's relatives, one of whom said that Ibodov beat all of his pupils.
"These kinds of schools have nothing to do with educating children," Kamilla Nodirova, a resident of Tashkent, told Caravanserai. "We live in a secular state, and every child has the right to a religiously neutral education."
"Every child has the right to be protected from violence," continued Nodirova. "I think we need to root out illegal schools even more aggressively."
Private religious education is forbidden in Uzbekistan, Tashkent lawyer Muslima Khakimova told Caravanserai.
"The education system is completely separated from religion by law," she added. "Only registered religious organisations may create religious schools. [Furthermore], only adult citizens who have completed [Uzbekistan's] 11 years of compulsory public education may enroll [in religious schools]."
The law thus permits religious schools only to operate as secondary schools or as universities (and never as elementary schools), she pointed out.
To combat the influence of illegal Islamic schools, Uzbekistan is vigorously developing Islamic education in high schools and universities and is striving to attract as many youth as possible to the scholarly study of Islamic doctrine.
A university-level madrassa called "Mir-i-Arab" opened in Bukhara in June 2017.
At the same time in Tashkent, authorities are continuing to build the Centre of Islamic Civilisation.
Attention needed in outreach to extremists
The large number of hujras that authorities have shut down is grounds for concern, say observers.
"The hujras pose a clear threat to national security," Tashkent-based political scientist Umid Asatullayev told Caravanserai.
Someone who seems to be merely an unqualified instructor of religion could be an extremist seeking to brainwash his pupils, he warned.
"We have laws on religious education ... to stop them," added Asatullayev, referring to those who misuse hujras.
Authorities might have to question whether they were too quick to extend an olive branch to radicals last year, said Asatullayev, referring to President Shavkat Mirziyoyev's drastic reduction of Uzbek security forces' watchlist of suspected or convicted extremists.
In 2017, authorities dropped 18,000 names from that list, as Caravanserai reported in March.
Some accused organisers of hujras had previously been on the official list of extremists, said the August 14 TV programme.
The programme highlighted the case of Mukhabbat Ruziyeva of Tashkent Province, a member of Hizb ut-Tahrir who spent 2002 to 2017 on the watchlist. She immediately began illegally teaching Islam as soon as she came off the list, according to authorities.
Amnesty "was not always justified" for recidivists like Ruziyeva, said Asatullayev, adding, "[Authorities need] to pay more attention in reviewing these candidates or possibly introducing a probationary period."