TASHKENT -- Tashkent police are conducting Operation Sweep Anti-Terror even as studies prove Uzbekistan to be one of the world's safest countries.
The operation, meant to protect the capital in the run-up to and during Independence Day (September 1), began July 30.
Police have rounded up 56 individuals during the operation, including alcoholics and drug users, but no suspected terrorists, according to Tashkent police in early August.
"Even though the last terrorist attacks in Uzbekistan occurred in 2004, similar operations take place every year for prevention purposes," Tashkent police official Sukhrob Ishkhanov of Tashkent told Caravanserai. "Our law enforcement agencies aren't letting their guard down for a single minute."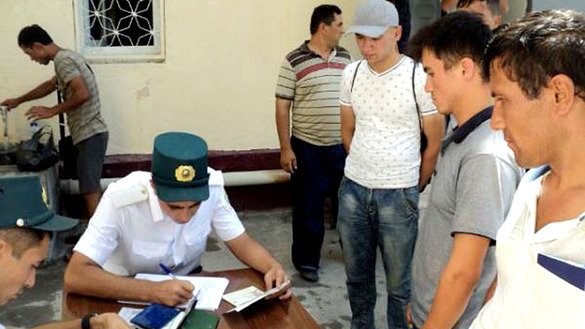 Tashkent authorities are enforcing compliance with Uzbekistan's passport regulations side by side with Operation Sweep Anti-Terror.
So far, in looking for passport regulation violators, they have searched more than 13,000 buildings in Tashkent, finding 4,479 violators of rules like mandatory tenant registration with police. The rule is meant to prevent extremists or out-of-towners without a Tashkent residence permit from moving illegally to the capital.
Since the beginning of the year, authorities have arrested 1,207 criminals, according to Tashkent police in late July.
Reforms taking shape now could make Tashkent even safer.
Caravanserai previously reported that the state would conduct a wide-reaching reform of law enforcement agencies in 2017.
Plans to protect major cities include installing "Safe City" centres for managing information systems, starting with Tashkent. The Tashkent centre, scheduled to open September 1, 2019, will supervise all security and safety agencies, including the fire department and various branches of police.
Officials anticipate hooking up surveillance cameras and alarm systems to the centre.
2nd in Gallup's Global Law and Order survey
A study conducted by the polling agency Gallup showed high satisfaction among Uzbekistanis with their country's security.
"Uzbekistan is the only country surveyed worldwide in which no residents said they had been assaulted or mugged in the past year," reads the Global Law and Order 2017 report published August 2.
During 2016, Gallup surveyed more than 136,000 residents of 135 countries to compile the report. Questions included "In the city or area where you live, do you have confidence in the local police force?" and "Do you feel safe walking alone at night in the city or area where you live?"
Gallup ranked Uzbekistan second only to Singapore in respondents' "sense of personal security".
"I believe the survey reflects the real situation," Abdujamol Mirniyazov of Tashkent told Caravanserai. "It really is truly safe here, largely because law enforcement agencies are a real force and are numerous."
"I walk the city without fear," Tashkent resident Shavkat Jurayev told Caravanserai. "If a robbery takes place in Tashkent, all news outlets will be discussing it the next day, to say nothing of murder. Such incidents are exceedingly rare."
"The 'peaceful sky' concept is very popular with Uzbekistani citizens," Tashkent-based political analyst Valerii Khan told Caravanserai. "People are proud to have safe and peaceful streets. It's even acceptable in society to excuse social problems and economic misfortunes by saying that they can put up with them for the sake of security."