ASTANA -- Mindful of the dangers presented by troops or police who embrace extremism, Kazakhstan's military and police are working all out to prevent such radicalisation from occurring.
First Deputy Defence Minister and Lt. Gen. Murat Maikeyev, in an interview with Caravanserai, described the military's efforts in 2016 and 2017.
In 2016, the military conducted "more than 5,000 events ... to shield troops from radical ideology", he told Caravanserai. "They included conferences, discussions ... and polls." Other measures included film screenings and distribution of 500 different learning aids about extremism.
The Defence Ministry is doubling down this year and intends to hold more than 7,000 such events in 2017, he added.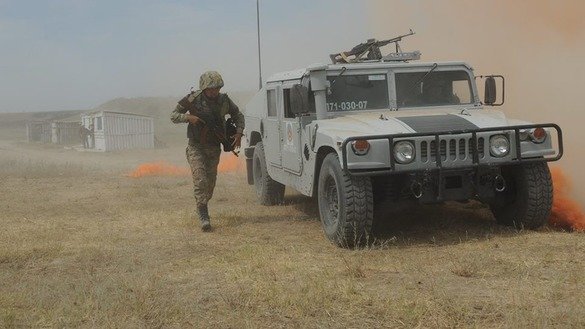 "Commanders and officers in charge are involved in preventing extremism in their units," he said, adding that NGOs, police and provincial departments for religious affairs that have jurisdiction over military bases all help.
So far there are no known cases of Kazakhstani troops defecting to extremists, he emphasised.
Past efforts by the "Islamic State" (IS) to recruit Central Asian troops (or other security personnel) spur the Defence Ministry to perform outreach among its units, said Arat Narmanbetov of Almaty, a retired National Security Committee (KNB) colonel.
The highest-ranking defector from Central Asia is Gulmurod Khalimov, who led Tajikistan's OMON riot police before joining IS in the Middle East in 2015. He is still at large and wanted for treason in Tajikistan.
Vulnerabilities
Kazakhstani troops are just as vulnerable as anyone else to online brainwashing, warned Narmanbetov, adding that they often are posted in rural areas where they might encounter a more fundamentalist environment.
"The military and police represent a special class," he said. "Extremist recruiters use more experienced people to work on them."
Given that troops and police defend the country, "the more of them cross over to the radicals' side, the more effective terrorism will be", he said.
Police have potential vulnerability to extremist ideas because they arrest suspected extremists and because they encounter convicts in correctional institutions.
In Almaty, the country's most populous city, the police department's work at protecting its officers from radicalisation might serve as a positive example.
Almaty police chose to conduct lectures and seminars. Speakers come from the Ministry for Religious Affairs and Civil Society, the KNB and other government bodies concerned with religion and security.
"In June, we showed a documentary to our staff," Almaty police spokeswoman and Col. Saltanat Azirbek told Caravanserai, referring to "Akidanyn Akyry" (The End of Aqidah), a production by the channel Kazakhstan TV.
The Kazakh-language film discusses the deadly terrorist attack on Aktobe in June 2016, when 18 terrorists and 7 innocent people were killed. In the film, one convicted perpetrator, Akhat Akhmetov, expresses his remorse.
Azirbek did not disclose the number of meetings and lectures held for Almaty police officers. However, she said Kazakhstan's police departments devote great energy to preventing sectarian crimes and curbing any proselytisation within their forces by extremist movements.
Keeping a close eye
One trainer is Alim Shaumetov of Astana, director of Akniyet, an NGO that conducts anti-extremism work and rehabilitates former extremists.
The Defence Ministry regularly invites him to lecture troops, he said, adding that the principles for preventing extremism in the military do not differ from those in civilian life. "I talk with them about the activities of IS ['Islamic State']," he told Caravanserai.
The main difference with civilians is that military personnel have weapons, training and authority to use force, he said.
During his seminars, he emphasises that luring a member of the military to extremism represents a major recruiting success for the other side.
The high stakes of protecting troops from radicalisation means that they need to watch not only themselves but their own friends and families, he said.
It is the responsibility of military personnel to sound the alarm immediately if someone close to them turns to extremist mosques, literature and websites, he said.