ASTANA -- A US-funded K9 training centre and donations of vehicles and equipment by the US to Kazakhstan's Interior Ministry (MVD) have been helping local police crack down on drug trafficking.
Operation Mak (Poppy), a major counter-narcotics effort that runs annually from June through October in Kazakhstan, has resulted in the seizure of several tonnes of drugs, according to the country's Border Guard Service.
The US aid has greatly enhanced border police performance, say specialists.
"The US is now one of our key partners in the fight against drug trafficking," Yevgeny Kryuchkov, a political analyst from Uralsk, told Caravanserai.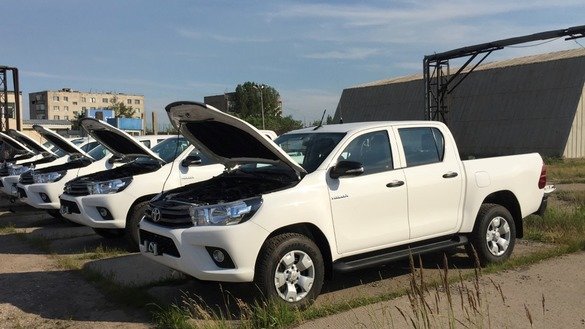 In November last year, the Kazakhstani MVD and the US Drug Enforcement Administration signed a memorandum of co-operation to fight drug trafficking.
The co-operation spans a wide range of issues like equipping police officers, exchanging information, training police officers, conducting special operations to shut down drug trafficking routes and fighting money laundering, said Kryuchkov.
Vehicles for drug enforcement officers
The US Central Command (CENTCOM) Counternarcotics Programme recently delivered vehicles equipped with communications and other equipment, along with spare parts, according to the US Embassy in Kazakhstan.
Earlier this year in June, representatives from the US Embassy's Office of Military Co-operation handed over 18 special motor vehicles to Kazakhstani police in Astana. Those included two Nivas, six Toyota pickup trucks, four all-terrain vehicles and six GAZel vehicles that were adapted for transporting service dogs. Two GPS navigation units and two satellite phones were also delivered.
The motor vehicles were sent to different provinces across Kazakhstan, where anti-drug police immediately put them to use.
"This does not represent one-time assistance from the United States to Kazakhstani drug enforcement officers," Seytjan Abdildayev, director of the NGO Gorod Bez Narkotikov (Drug-Free City) in Shymkent, told Caravanserai.
"Last year, as part of an anti-drug programme, the US Department of Defence gave Kazakh border guards 10 vehicles designed to transport service dogs. These motor vehicles are used to combat ... drug traffickers."
Training K9 handlers
In May 2016, officials opened a K9 training centre in Almaty with financial assistance from the US Department of Defence.
"This is a modern, two-story, mixed-use classroom and residential building where [instructors, including American specialists] train police K9 handlers regularly," Daniil Samonov, a K9 handler from Taraz, told Caravanserai.
The US Embassy designs the training course, he said, adding that specially trained dogs help police search for drugs and arrest criminals, he said. The dogs are trained to look for marijuana and heroin, and also for new types of drugs, he explained.
"The K9 police units in the US and Kazakhstan are similar in many ways, so there are no conflicting viewpoints on training dogs," said Samonov. "The help that the US K9 units provide is considerable."