TASHKENT -- As part of an effort to deal with shifting security threats, work is under way in Uzbekistan to pass legislation aimed at preventing, fighting and eliminating the threat of extremism.
The Fighting Extremism Act, which is expected to be finalised by August 30, is part of the State Action Programme for 2018, approved by President Shavkat Mirziyoyev January 24.
The programme for 2018 includes 231 items in various fields, ranging from supporting the economy to reforming policies on security and social welfare.
An online public forum on the programme took place January 10-20 on the official strategy.uz website, in which 4,400 respondents left comments and added suggestions.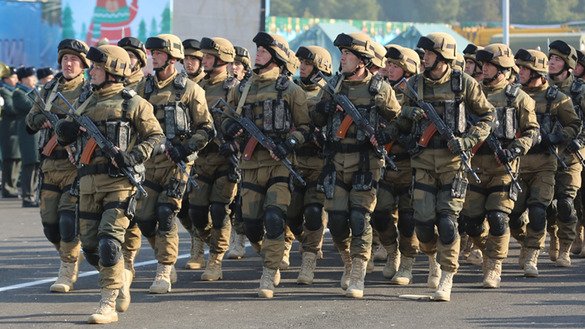 "Public discussion of documents is a wonderful tool for participating in politics," Muhammad Sadykov, a resident of Tashkent who participated in the discussion, told Caravanserai. "Many observations by ordinary people are being looked at and incorporated into bills."
The development of the Fighting Extremism Act is a major feature of the new 2018 strategy.
The act is aimed at defining extremism, coming up with mechanisms to counter it and determining the responsible agencies and forms of international co-operation, according to the strategy document.
"To date, there has been nothing like this in Uzbekistani law," Muslima Khakimova, a lawyer from Tashkent, told Caravanserai. "There were only certain articles in the Criminal Code that extremists could fall under."
The government is pursuing separate plans to rehabilitate former extremists and to strengthen religious pluralism and ethnic diversity.
A focus on security
"An entire section of the State Programme is devoted to prioritising security, inter-ethnic accord and religious tolerance in 2018," Senate spokesman Javokhir Mavlonov told Caravanserai.
"It has 17 points in all. [We] plan to implement all of them by the end of the year," he said. "We don't have any details of the [prospective] bills yet; this is only a plan to implement."
Developing a new edition of Uzbekistan's national security "concept" (a planning document), enhancing and strengthening military and military-technical relationships with Western defence partners and the implementation of a new defence doctrine are among the topics covered.
"The national security concept, like the defence doctrine, the new edition of which was adopted in early January, must suitably react to change in the international situation and to threats to national security ... it cannot be limited to fighting the traditional forms of security threats," Senate Deputy Chairman Sadyk Safayev told journalists January 18 in Tashkent, according to Gazeta.uz.
"In the world, including the area around us, the threats of international terrorism, extremism and radicalism are growing, and in some regions, armed conflicts are not letting up," Mirziyoyev said at a Security Council of Uzbekistan meeting in Tashkent on January 11, according to his press office.
"Such an unstable situation requires an adequate reaction from us," he said.
New measures aimed at further developing international defence relationships are set to be completed by April 10.
Work is already under way on some of the goals set forth in the 2018 State Programme, such as recruiting leading international specialists to teach at Uzbekistani military academies and holding joint training exercises.
On January 17-19, the Tashkent-based Armed Forces Academy of Uzbekistan hosted Col. (ret.) Gregory Cook, an instructor at the US Army Command and General Staff College, who held seminars aimed at developing service members' leadership qualities.