BISHKEK -- Thousands of schoolchildren in Kyrgyzstan are set to receive healthy lunches through the McGovern-Dole Food for Education and Child Nutrition 2017-2021 programme operated by the US Department of Agriculture (USDA).
The US embassy puts the number of beneficiaries of all US-supported food programmes in Kyrgyzstan in the "hundreds of thousands", while the McGovern-Dole Food programme alone provides to over 92,000.
The US government has allocated more than 1 billion KGS ($14.7 million) to improve nutrition and literacy in schools and kindergartens across Kyrgyzstan, according to the US embassy in Bishkek.
The programme, which is aimed at providing Kyrgyz schools, kindergartens and children's homes with enriched wheat, rice and butter, was officially launched on February 6.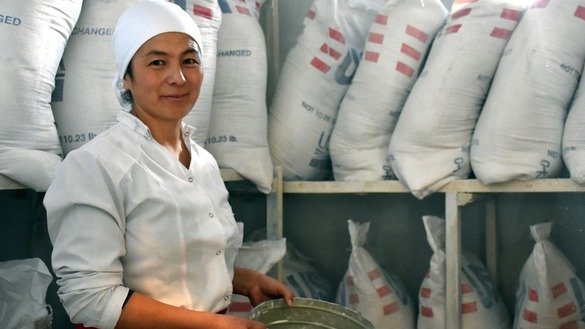 The plan is to give Kyrgyz pupils more nutritious lunches, according to a US embassy statement. "At the same time, the programme also focuses on improving children's health and learning capacity before they enter school by offering nutrition programmes for pregnant and nursing women, infants and preschoolers."
The thought behind the programme is that nutritious food, packed with healthy vitamins and trace elements, can help schoolchildren thrive.
"The NGO Mercy Corps and implementer Save the Children work to ensure that the communities served by the programme can ultimately continue the sponsored activities on their own or with support from other sources such as the host government or local community," said the embassy.
Providing healthy, hot meals for children
Saltanat Mukambetova works as a cook at the Sagynbay Orozbakov School in Kara-Saza, Naryn Province. She completed courses offered by Mercy Corps to improve her credentials, which gave her a better understanding of how to feed children
"We are preparing wholesome, healthy dishes," she told Caravanserai. "We replaced simple semolina porridge with wheat porridge. We want to enrich the porridge with boiled carrots or squash soon."
"Because of the Mercy Corps programme, modern equipment was installed for us and now it has become much easier to work," she said, adding, "Thank you to the American donors for their assistance."
Asel Mambetova, 42, of Teplokliuchenka, Issyk-Kul Province, is a biology teacher and the mother of four, including three schoolchildren.
A lack of time and money has made it difficult for her to pay proper attention to giving her children high quality food, she said.
"The children used to drink tea and go to school hungry," she told Caravanserai. "Now I'm relaxed [about their situation]; they're eating hot food at school, along with fruits and fermented-milk beverages."
"Full meals allow children to follow along during lessons rather than thinking about food," she said.
Aid helps fill school lunch budget gaps
The problem of high-quality food for pupils used to be one of the most hot-button issues in Kyrgyzstan's education system.
In previous years, because of budget deficits, the country's school system allocated only 14 KGS (about 20 US cents) per student meal.
The lack of funds forced officials to downgrade the quality of school food, according to Nurlan Baygulov, a department supervisor with the Board of Education at the Bishkek Mayor's Office.
"Because of price increases for food, it has become difficult to provide porridge or soup," he told Knews.kg in September 2016. "We switched to a menu that consists of a glass of tea or of fruit compote with a roll."
With the help of international donors, the situation began to improve.
Last March, aided by Mercy Corps and other international benefactors, the Kyrgyz government was able to begin serving hot food in primary schools again, Minister of Education and Science Gulmira Kudayberdiyeva told the newspaper Novye Litsa.
At that time, 788 of 2,218 schools were serving high-quality lunches.
Continuing US support for Kyrgyz schools
The US government has a history of providing nutrition assistance to youth in Kyrgyzstan.
In October 2010, the USDA allocated $3.2 million (217 million KGS) to local schools to help them procure 670 tonnes of food.
Healthy food, including enriched wheat, rice, and butter, was distributed by Mercy Corps to the neediest schools, kindergartens and children's homes across the country.
The US government rendered similar aid to Kyrgyz children in 2001.