TASHKENT -- Police in Uzbekistan are instituting multiple reforms under the Safe City project, seeking to improve their relations with and work more closely with the public.
"For many years, law enforcement agencies were perceived by many solely as agents of repression," Farkhod Usmanov, a 42-year-old Tashkent resident, told Caravanserai.
Since his election in late 2016, President Shavkat Mirziyoyev has rolled back some of the most authoritarian policies of his late predecessor, Islam Karimov.
"Bureaucracy, corruption, illegal arrests -- all of that is still fresh in our memory and hasn't fully vanished," said Usmanov. "I think that radical measures are necessary, right up to changing the name [of the agencies], changing their uniforms and re-training officers."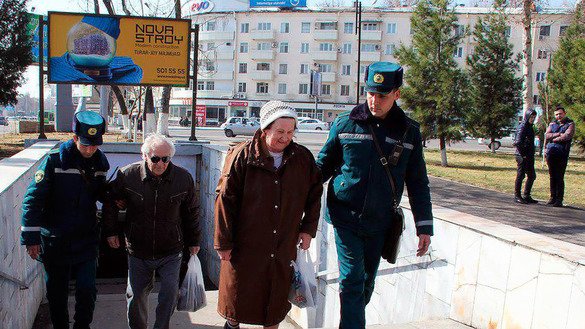 Officers are already working to counter such perceptions.
In a well-received public relations effort on March 8, Tashkent traffic police gave female drivers flowers as part of an International Women's Day campaign.
A video of the campaign was uploaded on Facebook, receiving more than 10,000 views.
"Great job, this is why we adore you," Dilorom Zakirova wrote in the comments under the video.
"It turns out there are good police officers too," Abdullo Tashev commented.
Becoming 'protectors' of the general public
Other measures are also under way to improve the professionalism of police and involve civilians in crime prevention.
A new special rating system for law enforcement officers implemented this month is aimed at fighting corruption and improving their effectiveness.
"Starting on April 1, a ranking system for police departments is being introduced, in accordance with which officers will be encouraged for their effective work to ensure public order, crime prevention and combating crime, or be penalised for unsatisfactory work," Tashkent Police Chief Rustam Jurayev said March 10, according to the Interior Ministry's "Na Postu" (On Duty) newspaper.
Citizens should actively help police prevent crimes, Jurayev, who also is a deputy interior minister, said at a news conference March 12, according to a March 15 Gazeta.uz report.
Uzbekistani police officials are planning to use the experience of cities in the United States to implement a neighbourhood watch programme, with the goal of uniting the efforts of officers and civilians, he said.
Under the programme, civilians should be more alert and report wrongdoing or suspicious activity in their neighbourhoods, Jurayev explained.
Officers should appear as "protectors" in the eyes of Uzbekistanis, according to Jurayev, Gazeta.uz reported.
"Indeed, we can say that there is a barrier between the community and police forces," said Jurayev.
"We have fought against lawbreakers, but communicating with the public and having the right attitude towards it have been neglected," he said. "I think that it's a large, complex problem that needs comprehensive study."
Utilising the internet
In Tashkent, police are utilising social media and the internet to become more transparent and accessible.
The Tashkent Police Department, since February 20, has been operating a Facebook page where civilians can report problems and post videos of violations or offences, including those committed by the police officers themselves.
The administrator of the page reportedly responds to all comments to ensure immediate action occurs.
"Nothing like this was imaginable before," Bobur Nurmukhammedov, 25, a resident of Tashkent, told Caravanserai.
"[Law enforcement agencies] have found the quickest way to reach the public. After all, today people spend a large part of their days on their smartphones. [Their undertaking] is very progressive," he said.
In addition to the official Facebook page, some police officials have also opened their personal Facebook accounts to communicate with the public. Bekhzod Sayfullayev, director of Tashkent police's Department of Migration and Citizenship Registration, was one of the first to do so, making his Facebook account public March 1.
Uzbekistan's traffic police -- one of the most criticised police agencies in the country -- have also found ways to be more attentive to the public.
Since March 5, Uzbekistanis have been able to upload photos or videos on a new traffic police website to report traffic violations or to dispute tickets. The traffic police also have begun communicating with the public via Facebook and Telegram.
"I am glad that we are receiving more and more tools for dialogue with authorities and oversight of their representatives," Ulugbek Turopov, a 28-year-old driver from Tashkent, told Caravanserai. "I hope that reforms will actively continue into the future."