ASTANA -- Astana last week hosted 40 governmental delegations from around the world for the KADEX-2018 international arms show.
The exhibition, which ran May 23-26, saw 318 defence contractors from 28 countries present their wares, including IOMAX USA from the United States, Elbit Systems from Israel and Airbus Group from the Netherlands, among others.
"The business agreements and contracts signed at the exhibition will contribute to the development of international co-operation and partnership among domestic and foreign enterprises in the defence-industrial complex," Kazakh President Nursultan Nazarbayev said at the opening of the exhibition May 23.
"This will also assist in attracting investments, as well as increasing the export potential and competitiveness of the Kazakh economy as a whole," he said.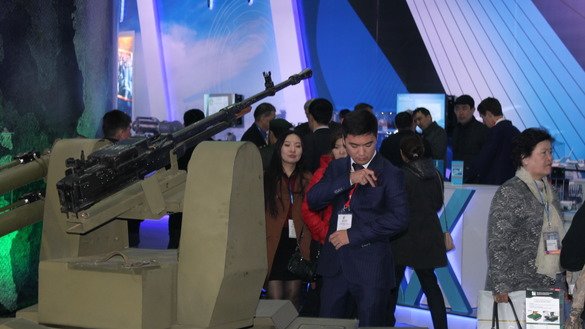 KADEX is the only trade fair of its kind in Central Asia, he said.
"The exhibition has been held [biennially] since 2010," Kazakh Deputy Minister of Defence and Aerospace Industry Aset Kurmangaliyev told Caravanserai.
"Kazakhstan's defence industry is making an effort to enter a new level of development, and the KADEX-2018 exhibition will provide an impetus for this development," he said.
The main objectives of the arms show are to sign new contracts, attract weapons developers and manufacturers to Kazakhstan, and promote defence hardware produced in Kazakhstan in foreign markets, Kurmangaliyev said.