ASTANA -- Scholars, politicians and spiritual leaders from all over the world participated in a conference in Astana Wednesday-Thursday (October 10-11) to discuss security issues, religion and globalisation, as well as the need to overcome extremism and terrorism.
The Congress of Leaders of World and Traditional Religions, first conducted in 2003 in Astana, has since been held about once every three years.
This year in its 6th iteration, 82 delegations from 46 states participated, including politicians and spiritual leaders of Islam, Christianity, Judaism, Hinduism, Taoism and Zoroastrianism. They were also joined by representatives of international, religious and non-governmental organisations, according to the Spiritual Administration of the Muslims of Kazakhstan (DUMK).
"We need to move to a new level of co-operation," President Nursultan Nazarbayev told the congress Wednesday, Kazinform reported.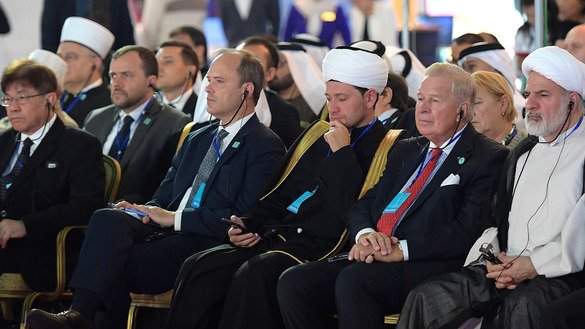 "I mean using the enormous potential of spiritual leaders and religious organisations to facilitate a constructive dialogue between the conflicting parties," he said. "We urge all spiritual leaders to address the global community, people and states with a call for peace and security."
During the congress, Nazarbayev conferred with with Organisation for Security and Co-operation in Europe (OSCE) Secretary-General Thomas Greminger and High Representative for the United Nations Alliance of Civilisations Nassir Abdulaziz al-Nasser.
During the meeting with al-Nasser, Nazarbayev awarded him the Order of Friendship for his achievements in strengthening peace, friendship and co-operation.
Overcoming extremism, terrorism
"The Syrian conflict, the mass murder of believers, the destruction of houses of worship, religious sites and monuments of our global heritage ... is yet another challenge to global stability and security," said Kassym-Jomart Tokayev, chairman of the Kazakh Senate and director of the congress's secretariat, Kazinform reported Wednesday.
"The problems of violent extremism and the activity of international terrorist organisations have not become less significant recently," James Cleave, a Protestant pastor from the United Kingdom who participated in the congress, told Caravanserai.
"The threat remains and is only reinforced against a background of global problems and political battles," said Cleave.
Religious leaders with different beliefs may contribute to building a secure and tolerant world, he said, noting the "examples of co-operation and peaceful co-existence among Central Asian countries, despite various opinions and views of the world."