BISHKEK -- Kyrgyz educators and religious leaders are raising the alarm over children who are potentially vulnerable to an extremist interpretation of Islam.
Young people are particularly vulnerable and impressionable, said Jamal Frontbek-Kyzy, head of the Bishkek-based Mutakallim, a non-governmental Muslim women's organisation, 24.kg reported December 6.
Children from dysfunctional and single-parent families are especially at risk, she said.
The threat comes from the Salafists, who claim to be observers of "pure" Islam, Isfandiyar Abdullayev, a mullah from a Bishkek prayer room, told Caravanserai.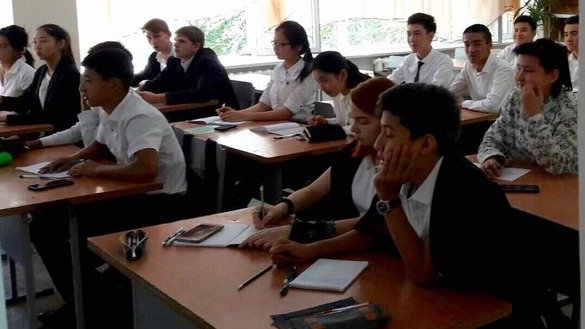 Some strict followers of Salafism espouse violent "jihad" against people and governments they deem to be enemies of Islam.
"Many Kyrgyz children have left for Syria, usually with their parents," Abdullayev said. "In recent years, our human rights activists have been working hard to bring these children back to Kyrgyzstan."
Strengthening anti-extremism measures
Kyrgyz authorities have been working to counter extremism and strengthen oversight of religious organisations over the past few years.
By June 2018, Kyrgyzstan had registered 3,257 religious organisations, according to the State Commission for Religious Affairs (GKDR). More than 20 have been banned by courts for extremism.
In September, Kyrgyzstan's State Committee for National Security and the Interior Ministry's 10th Main Department, whose mission is to fight extremism, announced the shutdown of at least 16 websites spreading extremist material.
As part of the crackdown, intelligence agencies have detained dozens of active members of banned radical groups accused of attempting to recruit new members.
Officials also are tightening the nation's laws on religion, which provide, among other things, measures to protect children from extremist influence.
Trying to proselytise among children under 16 years of age is prohibited by law, GKDR Director Zayirbek Ergeshov said in an interview with Radio Free Europe/Radio Liberty's Kyrgyz service published in June.
"We received many complaints from parents and religious organisations, who have complained that 'strangers are sweeping up their children on the street and, spreading religious propaganda, are taking them away somewhere'," he said in June. "Therefore, we decided that not only the parents but also the state has to intervene."
The latest amendments to the law, submitted for public discussion in the summer, prohibit Kyrgyz minors from attending religious institutions, including mosques, without their parents, Ergeshov said. Parliament has not yet decided on those amendments.