TASHKENT -- Fighting an age-old scourge, Uzbekistan is receiving valuable aid from the United States.
The countries are teaming up to conquer tuberculosis (TB), which remains stubbornly present in Uzbekistan. For more than two decades, the United States has been helping improve public health in Uzbekistan, which shares an approximately 140km-long border with Afghanistan, where the number of tuberculosis cases remains alarming.
On March 25, one day after World Tuberculosis Day, officials from the US embassy and the Uzbek Ministry of Health signed a Memorandum of Understanding.
The memorandum will strengthen co-operation between the United States and Uzbekistan to stop the spread of TB in Uzbekistan, especially its drug-resistant forms, according to the US embassy.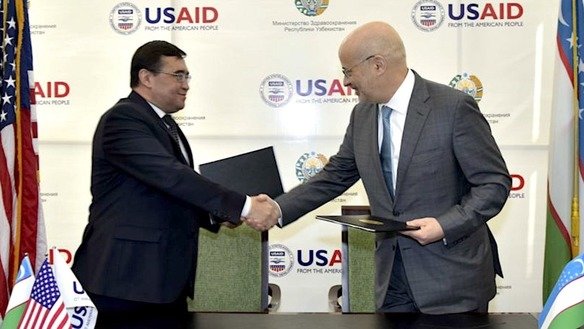 Since 1993, when the United States began helping Uzbekistan fight TB, the disease's mortality rate in Uzbekistan has fallen fivefold and its incidence has almost been halved, Alan Meltzer, US Chargé d'Affaires ad interim in Uzbekistan and who signed the memorandum for the United States, said during the signing ceremony, according to Gazeta.uz.
International concern
TB is still the deadliest infectious disease, the World Health Organisation (WHO) said in a statement last September.
Medical officials worldwide, in their determined effort to reduce the suffering caused by TB, have prevented 54 million potential deaths from the disease since 2000, according to the WHO statement.
Last September, the United Nations (UN) convened its first high-level meeting on TB.
Uzbekistan has a TB incidence rate of 42.9 per 100,000 individuals, according to the Health Ministry. The mortality rate is 1.6 per 100,000.
"If earlier we talked about fighting against tuberculosis, today we are talking about eliminating [it] over the coming years," Nargiza Parpiyeva, director of the Uzbek Centre for Phthisiology and Pulmonology, said at the conference where the United States and Uzbekistan signed the memorandum.
Since last year, the US Agency for International Development (USAID) has trained almost 2,000 Uzbek healthcare providers, upgraded 40 laboratories in accordance with international TB testing standards, and helped introduce a new class of antibiotics, Meltzer said at the ceremony.
Since 1993, the United States has provided Uzbekistan with more than $120 million (1 trillion UZS) in assistance to the health sector, according to the US embassy.
Drug-resistant TB and social stigma
"Today Uzbekistan faces two problems: The first one is the spread of a new form of antibiotic-resistant tuberculosis," Tashkent physician Muhammad Shoirov told Caravanserai. "The second problem is the stigmatisation of the disease."
A new class of antibiotics that combat drug-resistant forms of TB has been introduced in Uzbekistan, according to the Health Ministry.
A shortened nine-month course of treatment with such antibiotics is already being implemented in Samarkand and Tashkent. At the same time, Uzbekistan announced on March 28 that it would place the sale of antibiotics under strict oversight. Unrestricted sale of antibiotics could help spur the emergence of drug-resistant strains of bacteria.
In addition, starting from the next academic year, residency and master's programmes in all Uzbek medical schools' pulmonology and phthisiology departments will be free, said Parpiyeva, according to Gazeta.uz.
This incentive is expected to attract students to fight TB. The state will allocate more than 118 billion UZS ($14 million) by 2021 to all these anti-TB efforts, according to Gazeta.uz.
As for stigmatisation, it causes a large number of fearful TB sufferers to shirk treatment, Shoirov said.
"Absolutely anyone can get sick, regardless of origin or income," he said.
He recalled the case of an Uzbek nurse who contracted TB at work and died because she could not find the courage to admit her illness to her family and begin treatment.
To overcome this problem, the Health Ministry and the US-based non-governmental organisation (NGO) Project HOPE have created outreach teams including former TB patients and female activists.
They conduct explanatory work, talk about the infection and the need for treatment, and offer free TB exams.
"People come to trust me very quickly and agree to go to the TB clinic for testing," former TB patient Shavkat Tursunbayev told USAID, according to a March USAID press release. "I know how to talk to my clients and make them feel safe. I love my work! Outreach is for me. If I can do some good and help people, I know my life is not for naught."
Every day, Tursunbayev, who recovered from TB, walks through Karshi to find individuals who may be at risk for TB.
Since 2015, counsellors like Tursunbayev have aided almost 28,000 TB-vulnerable individuals and have enrolled 148 patients in TB treatment.
To better publicise the need to fight TB, USAID organised a March 25 exhibition in Tashkent of paintings, photographs and brochures.