ASHGABAT -- Turkmen members of the "Islamic State" (IS) have been scattered after the terrorist group's defeat in Iraq and Syria at the hands of the US-led coalition and the Syrian Democratic Forces.
"Some of them have relocated to parts of Afghanistan that border Turkmenistan; others have joined the Free Syrian Army, which is fighting against [Syrian President Bashar] al-Assad's regime," said a statement from the Vienna-based Turkmen Initiative for Human Rights (TIHR), citing sources in Turkey.
In 2016, a number of Turkmens travelled to Kerki (formerly Atamyrat) in Turkmenistan, said one TIHR source, citing a wounded Turkmen IS member he met in Latakia, Syria.
The group then illegally crossed into Afghanistan before heading to Syria via Iran and Turkey.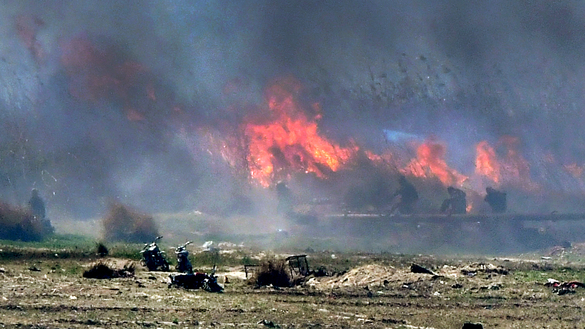 IS proselytisers recruited the group in Turkmenistan, according to the wounded militant.
"In all, there were 30 Turkmens, and six came with their families," the report said of that group.
The majority of IS militants in Homs, Syria, were Turkmens, according to TIHR.
"There were several hundred of them. They were indistinguishable from the others by their clothing and appearance (they all had beards); they tried to speak Turkish," TIHR said.
"But when they associated with Turkmen-Syrians, they didn't hide that they were from Turkmenistan," the report added.
Unknown number of Turkmen militants
The exact number of Turkmen nationals who have joined IS and other terrorist groups is not public.
The Soufan Centre, a US-based think tank, estimated in a 2017 report that more than 400 Turkmen citizens had joined IS.
The government blocks information on the participation of Turkmens in conflicts abroad as well as on individuals accused of recruiting for IS.
State Migration Service (GMS) officers have orders to "deny [when asked] any instance of participation by Turkmen citizens in events in the Middle East", said a GMS source in an interview.
"So if one of our citizens is captured or arrested for involvement in IS, we disown the story and say these are ethnic Turkmens from Afghanistan or from Iraq, or they're Turks, but not citizens of Turkmenistan," said the source on condition of anonymity.
"Everyone knows that our people [Turkmens] are fighting there [in Iraq, Syria or Afghanistan] and that their path to IS runs through Turkey ... but it's impossible to calculate how many of them are there," the source said.
[In Part 2 of this story, to be published July 25, Caravanserai will describe the ongoing battle between Turkmen militants trying to return home and Turkmen authorities trying to keep them out.]