NUR-SULTAN -- A technological revolution is under way within the Kazakh military.
The Ministry of Defence is planning to create a platform of strategic geographic information.
The resource will encompass a bank of geo-spatial data that come from digital maps and satellites, as well as data describing infrastructure and identifying facilities vulnerable to terrorism, as well as other information, the ministry said in a November 25 statement.
The platform has many uses, including the ability to prevent illegal border crossings by extremists seeking to join foreign wars or returning to commit terrorist acts in Kazakhstan.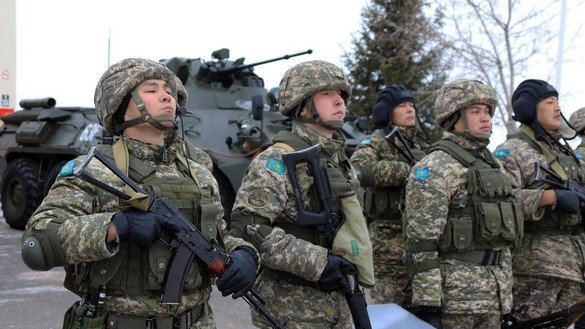 "In today's environment, many countries around the world are actively working to create an 'electronic battlefield' -- a unified control system that in real time spots targets and makes it possible to share information, designate targets, issue orders and oversee troops," the ministry said.
The platform will provide commanders of all ranks with objective and up-to-date information, and because it will require less time to collect data about a location, prompt decision-making will improve the assessment of data and its dissemination to the troops.
The Kazakh military's Department of Geographic Information Support is busy executing the project alongside other government agencies and organisations currently addressing the challenges of guaranteeing the state's military security.
The Digital Army
The geographic information database project was developed as part of the "Digital Kazakhstan" state programme.
The Ministry of Defence first announced its plan to create a "base platform of information systems to support decision-making by the military" in October 2018.
The ministry is now developing its "Digital Army" programme, which will encompass the armed forces' combat training, administrative, personnel and troop-monitoring activities.
An automated command and control system has already begun functioning in the air defence forces, and the process of implementing an automated command and control system for managing troops and resources is under way, according to the ministry.
Since 2018, students at Kazakh military academies have been learning about new areas of expertise including geographic information mapping, cybersecurity and space facility communication systems.
Boosting Kazakh military's combat capabilities
"Kazakhstan is computerising all the important areas of life: health care, the provision of government services, education and so on. The armed forces couldn't be an exception -- this is a necessity in the modern world," said Aleksei Juravov, a veteran of the armed forces from Shymkent.
Creating a geographic information database is "the most essential component of the 'Digital Army' project," he said.
"The database will include sounding data gathered on the earth's surface and from air and space, as well as hydro-meteorological and topo-geodesic information. This will significantly boost the Kazakh military's combat capabilities," Juravov said.
"In the past this seemed like science fiction to us, but now it's become a reality of our time and a necessity," said Juravov, who expressed encouragement at seeing such innovations.