NUL-SULTAN -- The US Defence Threat Reduction Agency (DTRA) and the National Guard of Kazakhstan have completed construction of a training centre in east Kazakhstan aimed at ensuring the physical protection of nuclear facilities abandoned after the collapse of the Soviet Union decades ago.
The Anti-Crisis Training Centre in Ust-Kamenogorsk "is a vivid example of effective co-operation between the two countries as part of the joint programme 'Global Nuclear Security'", the US embassy in Kazakhstan said in a statement on January 22.
The joint mission to reduce the threat of nuclear proliferation was first implemented in December 1993 through an agreement between the two governments.
The centre's curricula include tactical training, emergency response, modern physical security systems and computer security as well as the control and safe storage of nuclear material.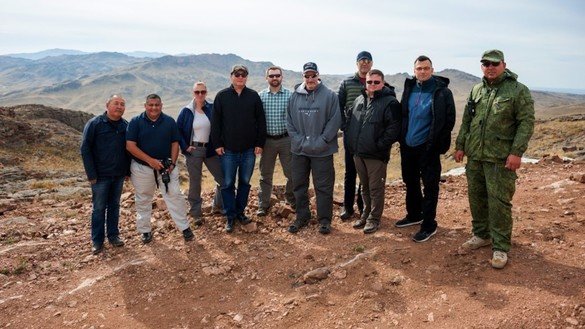 Construction and refurbishment of the centre have been taking place since 2018, which saw the premises of the old military barracks converted into a modern training base.
The official opening was scheduled for January 24, but the two sides postponed it for two weeks because of bad weather that prevented some officials from flying in for the ceremony.
The training centre is equipped with electronic shooting galleries, vehicle simulators and training complexes for drone operators.
Abandoned site
The Semipalatinsk (now called Semey) testing site began to operate as part of the Soviet Union's nuclear programme in 1947, according to the DTRA.
From 1949 to 1989, it conducted 456 nuclear explosions, with 116 aboveground and 340 underground, irreparably harming the health of the local population, Kazakh officials have said.
After the collapse of the Soviet Union in 1991, many of the scientists and military personnel abandoned the site. They left behind tunnels, boreholes and unsecured nuclear materials.
Kazakh observers praised the work of the two governments to eliminate the threat of nuclear proliferation.
"After the collapse of the Soviet Union, all military training sites fell into decay and Semipalatinsk ... was a great danger," said Ruslan Seksenbayev of Taraz, director of the non-governmental organisation Beibit Aspan (Peaceful Sky).
"Today, thanks to the joint efforts of the US Defence Threat Reduction Agency and Kazakh authorities, the site infrastructure is neutralised and presents no danger."
Co-operation between Kazakh and American specialists continues with an "exchange of experience, training and improvement of educational opportunities in Kazakhstan", he noted.