TASHKENT -- The United States donated more than 1.2 million doses of the Pfizer vaccine to Uzbekistan to fight COVID-19, the US Embassy in Tashkent confirmed earlier this week.
The 1,214,460 doses will protect Uzbek lives and help prevent the spread of dangerous new variants, said the statement, which did not provide the arrival date of the donation.
The shipment is part of the US government donation of 500 million COVID-19 vaccine doses for the world through the COVID-19 Vaccines Global Access (COVAX) programme.
"We are working fast to get safe and effective vaccines to as many people as possible. Increasing global vaccination coverage is the best way out of this pandemic," said US Ambassador Daniel Rosenblum.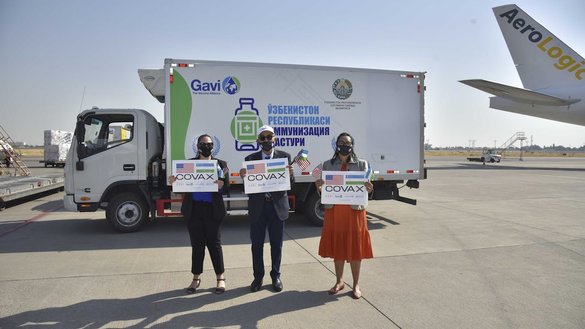 "These vaccine donations will save lives, rebuild the global economy, and help stop the threat of new COVID-19 variants," he said.
The donation comes after the United States donated more than three million doses of the Moderna vaccine to Uzbekistan in July.
COVAX has also provided almost 1 million doses of the AstraZeneca vaccine to Uzbekistan in multiple deliveries, partially funded by the US government.
Worldwide, the United States has delivered more than 140 million COVID-19 vaccines, and hundreds of millions more are on their way. The United States is the largest single donor to COVAX.