IDLIB -- US operations in Syria continue to target terrorist leaders linked to al-Qaeda and the "Islamic State of Iraq and Syria" (ISIS), while Russia and Iran, allies of Syrian President Bashar al-Assad's regime, focus their energies on security natural resources and strengthening their proxy forces.
The latest example of US action occurred on December 3 when a drone strike killed a senior al-Qaeda-linked terrorist.
The strike near Idlib killed Musab Kinan, a senior leader with Hurras al-Deen, Pentagon spokesman John Kirby said during a press briefing on December 6.
Hurras al-Deen is a relatively small but powerful armed group led by al-Qaeda loyalists. In June 2020, it joined forces with four other hardline groups operating in the region to form the Fathbatu operations room.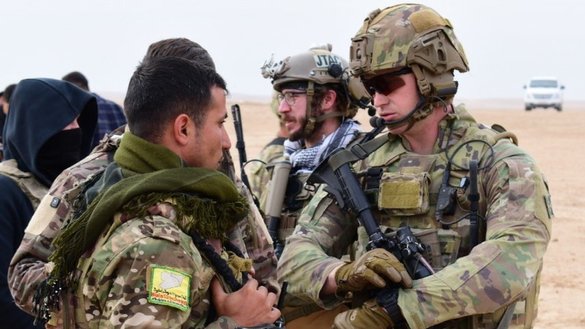 Considered to be al-Qaeda's branch in Syria, Hurras al-Deen is a rival of Tahrir al-Sham, an extremist alliance dominated by former members of al-Qaeda-linked al-Nusra Front (ANF) -- although the two groups co-operate at times.
The United States designated Hurras al-Deen as a terror group in 2019.
A drone strike on October 22 killed senior al-Qaeda leader Abdul Hamid al-Matar in northwest Syria.
"The removal of this al-Qaeda senior leader will disrupt the terrorist organisation's ability to further plot and carry out global attacks," said Central Command spokesman Army Maj. John Rigsbee in a statement at the time.
On September 20, the Pentagon also killed Salim Abu-Ahmad, another senior al-Qaeda commander in Syria, in an air strike near Idlib.
Some reports suggested that two Hurras al-Deen officials were killed in that strike: Abu al-Bara al-Tunsi, said to be a senior religious figure, and Abu Hamza al-Yemeni.
Russian obstacles
US efforts to combat al-Qaeda stand in contrast to those of Russia and Iran, whose interference in Syria makes it more difficult to target terrorists.
Russian military incursions in early 2020 in eastern Syria disrupted efforts by the Syrian Democratic Forces (SDF) and US-led coalition to fight ISIS, local military officials and analysts said.
Russia is violating the rules of engagement in the area with these actions since it is a fully militarised zone, even if ISIS no longer has an open presence in it, Syrian journalist Mohammed al-Abdullah said at the time.
In fact, Russia's presence is impeding all military and surveillance operations, he said.
Russia's moves "are serving the terrorists' interests considerably by sustaining the state of tension in these areas, which debunks previous Russian assurances that it is intervening to serve Syria, safeguard its security and put an end to the state of war", al-Abdullah said.
"These incursions open the door for the emergence of many new conflicts that did not exist throughout the duration of the eight-year long war," he said.
One of Russia's undeclared goals is to gain access to Syria's vast natural resources that remain untapped but have been confirmed by studies to exist in these areas, al-Abdullah said.
The Kremlin has long sought to conceal such self-serving goals under the guise of counter-terrorism.
Videos previously circulated online by Russian media outlets have projected a macho imago of the "ISIS Hunters" -- a Russian-backed private security company in Syria.
Heavily armed and sporting distinctive arm patches that show a menacing skull overlaid by a red target, members of the mercenary group look as if they are hardened warriors fighting ISIS remnants.
In reality, however, it has been some time since ISIS has been the company's target.
The real focus of the ISIS Hunters, Syrian observers say, is to secure Russia's many and varied economic interests in Syria.
Iranian interference
For its part, Iran -- another key player in Syria -- has done little to prevent the spread of terrorism and has actively encouraged regional proxies fighting alongside the Syrian regime.
For the best part of a decade, the Iranian regime has invested heavily in Syria, propping up the al-Assad regime militarily and spending lavishly in other areas -- but to little measurable effect.
The vast amounts of money Iran has spent in Syria, and continues to spend, have not reaped the hoped-for dividends for the Iranian regime, observers have noted.
Neither have they bolstered the Islamic Revolutionary Guard Corps (IRGC) and its overseas arm, the Quds Force (IRGC-QF), they added, noting that the force is far weaker now than it was two years ago, even after millions of dollars in expenditure.
Iran has donated hundreds of millions of barrels of oil and millions of dollars to al-Assad's regime over the past decade, and all the giving -- which has translated to shortcomings and hardships in Iranian lives -- has been in vain.
Meanwhile, Iran's self-described "Axis of Resistance", a term that has been used over the years to refer to an alliance between Tehran and its affiliates -- which most recently include Kataib Hizbullah and Asaib Ahl al-Haq in Iraq, Hizbullah in Lebanon and the Houthis in Yemen -- is more akin to an "Axis of Terrorism", analysts said.
Such proxies are working on several fronts to impose the Islamic Republic's hegemony and expansionist policies in the region. In return, Tehran provides its "axis" partners with all the money, weapons and support they need.