The European Bank for Reconstruction and Development (EBRD) again is helping a Central Asian country fix a uranium-mining mess that the Soviet Union left behind.
In the first quarter of 2023, the EBRD will begin remediation at Yangiabad and Charkesar, two Soviet uranium-mining sites in Uzbekistan, the EBRD said in a statement earlier this month.
The project is expected to take two years.
The work will come now that the EBRD and the Uzbek government have signed a grant agreement. Under the pact, the Environmental Remediation Account for Central Asia (ERA) will pay for the remediation of former Soviet uranium mines at Yangiabad and Charkesar, both east of Tashkent.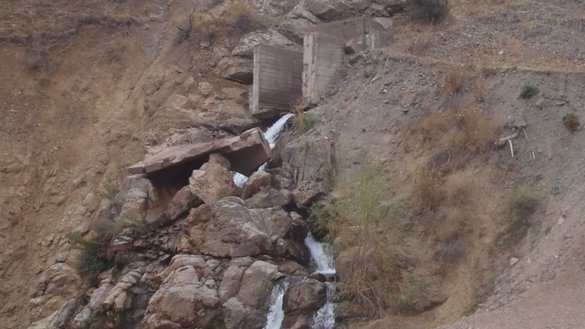 The ERA is providing a €7 million grant for the project, which the EBRD will manage.
EBRD Director of Nuclear Safety Balthasar Lindauer and Uzbek State Committee for Ecology and Environmental Protection Chairman Narzullo Oblomurodov signed the agreement in London September 1.
Mountainous, dangerous locations
Yangiabad, where miners extracted uranium for almost 40 years, lies about 70km from Tashkent, in a high-seismic-risk zone and 1,300 metres above sea level.
It is spread across 50 sq. km and contains about 2.6 million cu. metres of radioactive waste.
Crews plan to close four shafts, demolish contaminated buildings and processing facilities and relocate several waste rock dumps.
They also intend to help foster a tourism industry in Yangiabad.
Charkesar, also mountainous, lies 140km east of Tashkent. It was a uranium mine until 1995. The town of the same name has about 3,500 inhabitants.
Crews intend to close two shafts and rebuild two water diversion channels.
Past successes in Kyrgyzstan
In March, ERA-funded workers finished the reconstruction of Shekaftar and Min-Kush, two old uranium-mining sites in Kyrgyzstan. That project ended on time and under budget.
The ERA, founded in 2015 at the European Union (EU)'s initiative and managed by the EBRD, seeks to repair the environmental disaster that Soviet uranium mining left behind in Kyrgyzstan, Tajikistan and Uzbekistan.
"Large amounts of radioactively contaminated material were placed in mining waste dumps and tailing sites. Most of the mines [in Central Asia] were closed by 1995 but very little remediation was done before or after the closure of the mining and milling operations," World Nuclear News wrote in September.
The ERA's donors include the EU, Belgium, Lithuania, Norway, Spain, Switzerland and the United States.