BISHKEK -- Kyrgyz journalists are learning about the realities of doing their jobs in a world of ever-present extremism and terrorism.
The German-based NGO Institute for Democracy, Media and Cultural Exchange (IDEM) recently teamed up with the Organisation for Security and Co-operation in Europe (OSCE) to teach Kyrgyz reporters about security issues.
Employees of international NGOs and Kyrgyz journalists gathered in Bishkek on November 26 to discuss the results of two training workshops conducted by IDEM and the OSCE and to plan more sessions.
The workshops, which took place October 1-3 and November 21-24 in Chon-Kemin, Chui Province, trained Kyrgyz journalists about covering terrorism and extremism at the local and regional levels. Topics included Kyrgyz anti-extremism laws, digital security, information gathering, fact checking and personal safety while covering conflicts.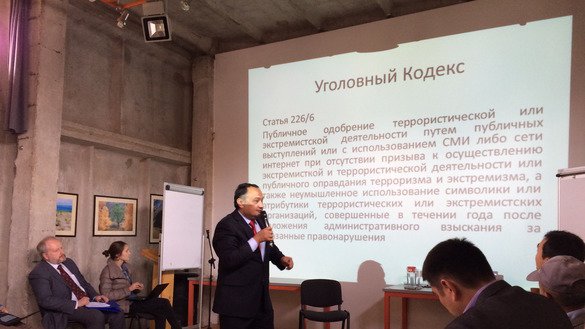 IDEM plans to expand the workshops and to take trained journalists' recommendations into account.
"We're ready to consider projects for journalists on the prevention of extremism and terrorism and to provide financial support for broadcasts and publications," Elmira Toktogulova, a Bishkek spokeswoman for IDEM, said during the November 26 Bishkek conference.
"It would be enormously beneficial to create a series of broadcasts and articles where militants who came back from Syria could open up about the horrors of war and about what is going on there," Toktogulova said at the Bishkek forum, speaking of individuals who have renounced extremism.
Media, government co-operate
Journalists learned a great deal during the workshops, said Denis Pyshkin, a spokesman for the Interior Ministry (MVD) 10th Main Directorate, which counters extremism and terrorism.
"It's extremely important for the media and government agencies to co-operate in educating the public about religion and countering radicalism," he told Caravanserai. "The spread of extremism and terrorism is a danger. We should co-operate ... on all levels."
It is crucial for Kyrgyz media to communicate to the public that terrorist organisations aim to spread mass fear and destruction, he said.
"Terrorists primarily aim to instill fear in millions of people," he said. "Terror groups commit attacks, reckoning that word of them will spread."
Terrorist groups also take advantage of widespread ignorance that the media could dispel, he said.
"Most people know little about religion," he said. "[Militants] are all convinced that they're waging jihad."
But misguided militants who realise their errors too late might be stuck with their regrets, Pyshkin said.
"Kyrgyz and other foreign fighters are burning their passports in Syria, so returning from there is tough," he said. "Those who say they want to come back are often killed. Most of them figure out the truth when they arrive ... but there's no way back."
Journalists praise workshops
Kyrgyz reporters who attended the training sessions had positive feedback and ideas for how to implement what they learned in their work.
Svetlana Lapteva, a reporter for Vechernii Bishkek (Evening Bishkek), expressed her employer's willingness to co-operate in the fight against extremism.
"Our newspaper is prepared to set up a direct phone line so that specialists, as well as employees of the OSCE and IDEM, can come and talk about extremism and terrorism," she told Caravanserai. "Readers will be able to ask any and all questions about the issue and to get a direct answer from a specialist."
"All government agencies and international NGOs have to show the tragedies that befell families who were sucked into extremism, those who went to Syria, and those who've already lost loved ones," she said.
Coverage of security issues and of the prevention of extremism and terrorism is very important, she said, praising the training she received.
"The workshops were very interesting," she said. "They taught us everything we need to know about the law as it regards terrorism."
"These sorts of projects help bring us together and solve problems more quickly," she added.
Timur Toktonaliyev, a Bishkek editor for the British-based think tank Institute for War and Peace Reporting, similarly found the workshops useful.
"We journalists aren't specialists in extremism or in the politics of Islam," he told Caravanserai.
"Specialists and MVD employees know more and can advise us," he said, adding that the media have a role to play as society grapples with terrorism.
"Government agencies and experts work on this problem and identify the issues," he said. "But the media are the key party in communicating all the information about the destructiveness of radicalism to the public."
"If people were religiously literate and if they understood the consequences [of extremist recruitment], then maybe they wouldn't let it happen to them," he said.