ASTANA -- Kazakhstani law enforcement is sparing no effort to safeguard the EXPO-2017 world's fair in Astana.
The event, scheduled for June 10 through September 10, will showcase technological achievements. Under the theme "Energy of the Future", it is expected to publicise alternative energy sources like sun, wind and hydro.
Two million guests from 115 countries are expected to come, according to the EXPO-2017 website.
Five thousand police officers, including 500 from the provinces, will guard EXPO-2017, according to the Interior Ministry (MVD).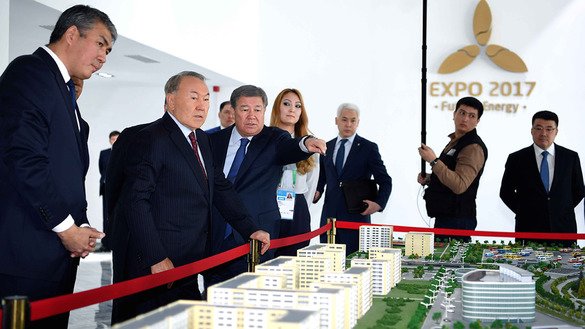 A vast number of reinforcements from other security forces, including 3,000 National Guard troops and 630 private security guards, will help the police.
EXPO-2017 will mark the first time that Kazakhstani forces use profiling "to identify [potential] terrorists" at a large-scale event, Talgat Musakanov, deputy chairman of the country's Committee for Administrative Police, told Caravanserai. The Administrative Police are in charge of public safety and traffic regulation enforcement.
Profiling is a method of predicting someone's actions based on his appearance, speech, gestures and behaviour, he said.
Workers will install anti-ramming vehicle barriers and video surveillance with facial recognition software as well, Musakanov said at an April 24 briefing in Astana, according to Inform.kz.
The software is meant to help identify individuals who already are on police watch lists.
Kazakhstan took the experience of previous major-event venues like Milan, Sochi and Baku into consideration while developing EXPO-2017's security, said Astana Police Chief Amantai Aubakirov, according to the EXPO-2017 website.
"We're already seeing that [the government is] taking major, even extraordinary, measures," Ruslan Seksenbayev of Taraz, director of the Beibit Aspan (Peaceful Sky) NGO and a political scientist, told Caravanserai.
Last summer, deadly terror attacks in Aktobe and Almaty rocked Kazakhstan.
Kazakhstani authorities gained experience in guarding a large-scale event in late January and early February, when Almaty hosted the 2017 Winter Universiade sporting tournament, said Seksenbayev.
"Experience from providing security at EXPO-2017 will be useful in the future as well," he added. "Law enforcement agencies have been mobilised and are training their officers and implementing new ways to fight terrorism."