ASTANA -- Kazakhstan has ambitious plans for an international financial centre meant to make its capital a global hub of business and finance.
The planned Astana International Financial Centre (MFTsA) is expected to begin operating and to start registering members July 1.
The projected centre is meant to "attract foreign investment, open up the Kazakh banking sector and make it easier for insurance companies and Islamic finance institutions to do business", according to an October 2015 Astana Times article. In April 2015, President Nursultan Nazarbayev signed a decree calling for the centre's creation.
The MFTsA will play an immense role in the country's economy, Kazakhstani Investments and Development Minister Zhenis Kasymbek stated during a May 22 Kazakhstani-UAE forum in Astana, according to Kapital.kz.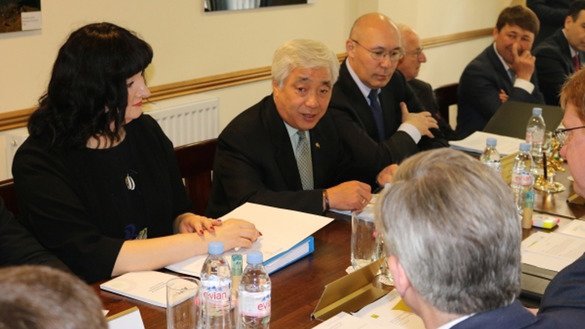 "Kazakhstan is undertaking a sweeping privatisation campaign," he said at the forum. "About 700 major state corporations will be privatised in the next several years."
"We're planning to sell off some of these corporations with the help of the MFTsA," he said.
Kazakhstan's freedom from being enmeshed in terror financing will make the planned financial centre popular with firms, foreign and domestic, that obey the law, officials and informed observers hope.
"Firm measures to counter money laundering and terrorism financing are causing banks around to the world to raise their standards for verifying the origins of cash assets," Timur Turlov, CEO of the Almaty firm Freedom Finance, told Caravanserai.
"Kazakhstan has a good financial reputation because nobody has tried to use the country to launder money and because extremist organisations haven't established themselves here," he added.
Growing international interest
In the past two years, foreign investors showed growing interest in Kazakhstan as a destination.
Foreign direct investment in 2016 reached $20.6 billion (6.4 trillion KZT), compared to $14.7 billion (4.5 trillion KZT) in 2015, according to the National Bank of Kazakhstan.
The largest foreign investor during those years was the Netherlands.
Kazakhstan is basing the MFTsA on the Dubai International Financial Centre, meaning a reliance on transparency and on rule of law.
The MFTsA's court will operate independently from the Supreme Court of Kazakhstan.
The MFTsA also will include a stock exchange and an independent regulator to determine the centre's rules, MFTsA Governor Kairat Kelimbetov said in March 2016, according to Kapital.kz.
Goals of the centre include "developing capital markets for the [coming] massive privatisation", said Kelimbetov at the time.
The government also plans to have the centre's stock exchange become a profitable investment for the National Bank and for the country's pension fund.
"We're planning to become the largest hub for Islamic financing in the former Soviet space," Kelimbetov said.
In May 2016, Nazarbayev predicted that the centre could generate $40 billion (12.5 trillion KZT) in revenue in a decade, according to Kapital.kz.
Support for the idea
Informed observers hail the creation and framework of the MFTsA but hope to see more done to support it.
"More than likely, Kazakhstani lawyers who are fluent in English and know English law will be brought in for MFTsA court cases," Shymkent attorney Ruslan Mirzakhojayev told Caravanserai.
To reassure foreign investors, some Supreme Court of Kazakhstan judges have undergone training in Dubai, should they be needed to review corporate disputes someday, he added.
The centre's own court will allow foreign nationals, not just Kazakhstanis, to serve as judges, said Mirzakhojayev.
However, it is not enough to build foreign investors' confidence by using foreign law and empanelling foreign judges, said Almaty economist Petr Svoik.
"We need more than creating a stable legal environment," he told Caravanserai. "We need to develop Kazakhstan's market economy first to arouse their interest."