ALMATY -- The US diplomatic mission in Kazakhstan has opened a new shared community space aimed at strengthening ties with Kazakhstani students, teachers and young entrepreneurs.
On October 20, the US Consulate General in Almaty officially opened its new "American Space", a community centre featuring modern facilities, state-of-the-art technology, comfortable furniture, office supplies and English-language literature. The centre is situated in downtown Almaty.
The goal of the American Space is to share the American experience and to build understanding between the United States and Kazakhstan, according to a US Embassy statement.
Everyone may take advantage of the centre's possibilities and conveniences free of charge, Catherine Marsicek, the Central Asia region information resource officer for the US Consulate General, told Caravanserai.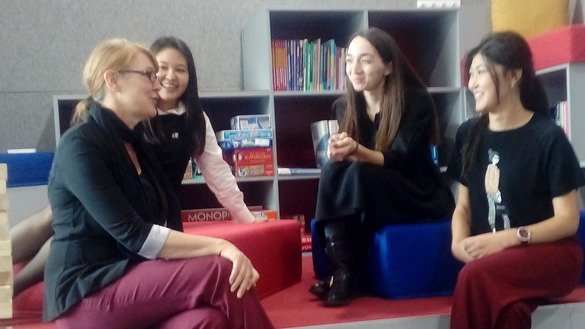 "The American Space in Almaty is a public-private partnership with the US diplomatic mission in Kazakhstan, SmArt.Point and Chevron," she said. "The American government represents the public part of the project, and Chevron and SmArt.Point represent private business."
Kazakhstan-based SmArt.Point provided the space for the centre and Chevron is sponsoring educational programmes to be held there. In addition, Chevron will invite lecturers from the US and oversee educational programmes devoted to robotic technology and engineering, she said.
For its part, the Consulate General supplied equipment, furniture and literature. It hired administrators to assist visitors.
Almaty deemed high-priority
The US Consulate General plans to maintain the project for three years. The centre will be open every day from 11am to 8pm and is designed to accommodate up to 150 visitors, primarily undergraduates, teachers and young entrepreneurs, according to Marsicek.
The predecessors for the American Space are the smaller American Corners, 11 of which operate nationwide.
It is difficult to count how many visitors those smaller facilities attract, said Marsicek.
For example, an American Corner in Astana operates in a university, making undergraduates the most frequent visitors. In other cities, American Corners operate in libraries, so they are open only 9am to 6pm, five days a week.
Such facilities inevitably have fewer visitors, said Marsicek, adding that the Consulate General deemed Almaty a high-priority city and decided to create a larger American Space there.
"This means that we're investing more money and technical and human resources," she said.
US Ambassador to Kazakhstan George Krol, at the opening of the new American Space, said he sees great potential in Kazakhstan, particularly in Almaty.
"Here, I see a new economic movement and social and civic development," said Krol. "Not only in Kazakhstan but in Central Asia as a whole."
"I encourage all of you to become a part of the large American Space community," he said, according to a US Embassy statement. "Visit us, reach out to us and attend our programmes. And, of course, please feel free to suggest events and opportunities that would benefit you, your colleagues, friends and families."
"The American Space is a community centre, and as such, it benefits from everyone's involvement," Krol said.
A warm reception
Daphne Moffett, regional programme director for the US Centres for Disease Control and Prevention, said she gained a favourable impression after visiting the American Space.
She likes the centre's openness, high-quality equipment and modern design, she told Caravanserai.
"These kinds of spaces are really needed because it is not always possible to find enough places where people can get together and do something," Moffett said. "In general, the idea behind this space is to create a platform for creativity and for studying English and to learn more about the United States."
Nargize Akibayeva, a 26-year-old resident of Almaty, was also enamoured with the American Space's new equipment and accessibility.
It gives visitors the chance to learn about the world's most developed economy, she told Caravanserai.
"I would really like for as many people as possible to hear of this great opportunity to come to this interesting place," she said.
At a time when everything costs money, the American Space in Almaty has wonderful equipment, is comfortable and free to the public, said Alena Litova, a 32-year-old Almaty resident.
It will become a place to which youths can gravitate, she said. "I don't think that there will be any unoccupied spots [at the centre] soon, because people will keep on coming."