SHYMKENT, Kazakhstan -- Kazakhstan's National Security Committee (KNB) is stepping up efforts to foil terrorist networks across the country, arresting many of those accused of spreading extremist materials.
The latest operation, conducted jointly by the KNB and Interior Ministry (MVD) in South Kazakhstan Province November 16, turned up ten adults aged 19-50 accused of spreading "Islamic State" (IS) ideology, the KNB said November 20.
An 11th suspect "is a juvenile, so he was not detained", Leila Baimanova, director of the Altyn Karlygash (Golden Butterfly) NGO in Shymkent, told Caravanserai.
One of the detainees worked as an imam at a mosque in the province, she said.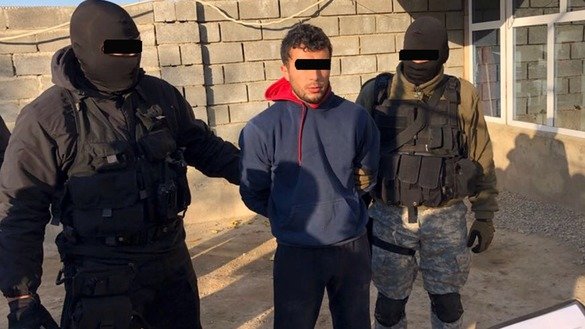 Those arrested knew each other and posted religious videos online "with calls to embrace extremism", Baimanova added.
The detainees spread extremist ideology on social networks and through WhatsApp and Telegram messages, the KNB said, adding that the suspects left behind "extremist materials" in more than 20 networked communities with more than 400 participants.
The investigation is ongoing.
Other incidents in recent months also have involved the circulation of extremist ideas.
On November 1, the Karaganda Provincial Court sentenced a man to seven and a half years in prison, with confiscation of assets, for urging internet users to commit a terrorist attack, according to the court.
Also in Karaganda Province, authorities October 30 arrested six suspected members of the banned Tablighi Jamaat organisation, Tengri News reported. Authorities confiscated religious literature and USB flash drives containing extremist videos.
On September 19, authorities in Shymkent arrested several suspects accused of recording extremist materials on cell phones and then selling the phones, reported the Kazakhstani newspaper Vremya (Time).
Crossing the line
"Many of the detainees are religious believers who were interested in religion for a long time and went to mosques," Sanjar Suleimenov, a theologian from Taraz, told Caravanserai.
"But then, influenced by dubious materials on the internet, their views become more radical," he said. "They cross the line ... into extremism, sometimes into terrorism."
Southern Kazakhstan has "many people inclined toward radicalism who, for now, have not made themselves known", he said.
"Our society has radically inclined youth who ... are prepared to kill innocent people," Gulnaz Razdykova, director of the Pavlodar Province Centre for Analysis and Development of Interfaith Relations, told Caravanserai.
"We can all remember the terrorist attack that occurred in Aktobe last year, when terrorists -- influenced by extremist propaganda -- killed people ... right before [Ramadan]," she said.
Although many Kazakhstanis now understand the danger posed by radical religious organisations, protecting youth from extremist ideology is key, according to Razdykova.
"It is very important to act ahead of time and essential to perform preventive work ... to prevent youth from becoming radicalised," she said, adding that authorities and scholars are holding meetings in educational institutions across the country to raise awareness about youth radicalisation.