WASHINGTON -- Kazakhstani President Nursultan Nazarbayev's official visit to the US capital is being hailed as the beginning of a "new chapter" in the history of bilateral relations between Kazakhstan and the United States.
The meeting between Nazarbayev and US President Donald Trump Tuesday (January 16) is "the beginning of a new chapter in the countries' relations and has already led to a number of important results", Kazinform reported, citing scholars from the Institute of World Economy and Politics, a Kazakhstani think tank.
The two leaders discussed the "enhanced strategic partnership" between Astana and Washington and "resolved to strengthen co-operation on political and security issues, trade and investment", according to a White House statement.
They also agreed to enhance "people-to-people relationships through regular high-level meetings within the framework of an Enhanced Strategic Partnership Dialogue".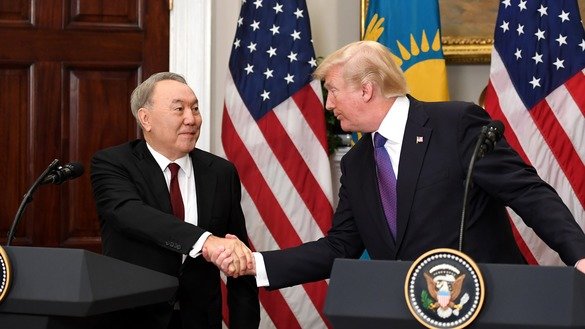 Nazarbayev's visit to the United States is "really important" in the current international context, Kassym-Jomart Tokayev, chairman of Kazakhstan's senate, tweeted Tuesday.
"An important result of Nazarbayev's visit is documented agreement on the expanded strategic partnership of Kazakhstan and the US in the 21st century," he said.
'One can count on Kazakhstan'
The United States and Kazakhstan have a unique relationship within Central Asia, William Courtney, a former US ambassador to Kazakhstan, told Radio Free Europe/Radio Liberty (RFE/RL) Tuesday.
Kazakhstani troops, mine-sweeping units, were the only Central Asian units participating in the US-led multinational force in Iraq.
This willingness to deploy abroad means that Kazakhstan plays "not only a regional ... but really a global role", he said.
"One of the great strengths of Kazakhstan is that it has had moderate traditions ... economic policy, political policy, other areas," Courtney said. "Whatever changes happen in the region ... one can count on Kazakhstan to take a moderate, pragmatic approach."
Combating terrorism, extremism together
Nazarbayev and Trump "pledged to deepen bilateral defence and security relationships, noting their intent to conclude several agreements that enhance co-operation, interoperability, access and logistical routes in support of regional security", said the White House in its statement.
They also discussed Kazakhstan's interest in joining the Convention on Cybercrime to "provide a framework for global co-operation" against crimes committed on the internet.
"Participation in these kinds of multilateral agreements further strengthens law enforcement co-operation and information-sharing to combat international terrorism and violent extremism," the statement said.
The two leaders also agreed to address shared challenges in Central Asia through regional formats, such as the C5+1 dialogue (Kazakhstan, Turkmenistan, Tajikistan, Uzbekistan and Kyrgyzstan + the United States).
"They resolved to seek a peaceful resolution of the conflict in Afghanistan, and to pursue initiatives fostering greater political and economic co-operation in the region," the statement said.
The C5+1 format that has been used since 2015 for regional co-operation between the United States and Central Asian states is beneficial for the whole region, Yevgeny Kryuchkov, a political scientist from Uralsk, told Caravanserai.
The two leaders also welcomed Afghanistan's participation in this format in the future, according to the White House.
$7 billion worth of US projects in Kazakhstan
During his visit to Washington, Nazarbayev spoke with American business leaders, noting that the United States has invested more than $50 billion (16.2 trillion KZT) in Kazakhstan's economy since its independence, said the Kazakhstani presidential press office January 17.
More than 500 companies with partial or complete American ownership operate in Kazakhstan, including Chevron, Exxon Mobil, General Electric and Halliburton, Nazarbayev said.
"The United States is a major investor in our economy and a strategic partner," Madiyar Uteshev, an economist from Astana, told Caravanserai. "In 2017, trade between the United States and Kazakhstan was $2 billion [648.9 billion KZT]."
Nazarbayev and Trump expressed their willingness to pursue a just and mutually beneficial economic partnership and to increase bilateral trade and investment.
The two leaders signed "more than 20 documents for a total worth of over $7 billion [2.3 trillion KZT] aimed at implementing projects in the field of aviation and space research, petrochemical and agricultural industries, as well as infrastructure development", according to Nazarbayev's press office.
Kazakhstan to be among world's 'top 10 oil producers'
Nazarbayev also met with US Energy Secretary Rick Perry and exchanged views on further development of the two countries' ties in energy, reported Akorda.
Nazarbayev underlined Kazakhstan's well established co-operation with the United States in the oil and gas sector, putting emphasis on the projects at the Tengiz and Kashagan fields.
He called for investments to increase Kazakhstan's processing capacity.
"Kazakhstan is likely to be one of the top ten oil producers in the world in a few years in great part because of Tengiz and Kashagan," said Courtney, according to RFE/RL. "The United States also is a large producer of oil and will have a strategic interest in maintaining a close dialogue with Kazakhstan."
[Alexander Bogatik of Taraz contributed to this article.]