STOCKHOLM -- A 39-year-old Uzbekistani asylum seeker who confessed to a truck attack in Stockholm last April that killed five people planned his assault "against infidels" in Sweden for months, prosecutors said Tuesday (January 30).
Rakhmat Akilov, who swore allegiance to the "Islamic State" (IS) prior to the attack, admitted to stealing a truck and mowing down a crowd on a pedestrian street in the Swedish capital.
After crashing the truck into the facade of a department store, Akilov set off an explosive device in the truck's cab made up of five butane gas canisters, screws, knife blades and metal objects, causing damage to the truck but no injuries, prosecutors said.
He then fled the scene but was arrested a few hours after the assault thanks to video surveillance images. He confessed to police the next day.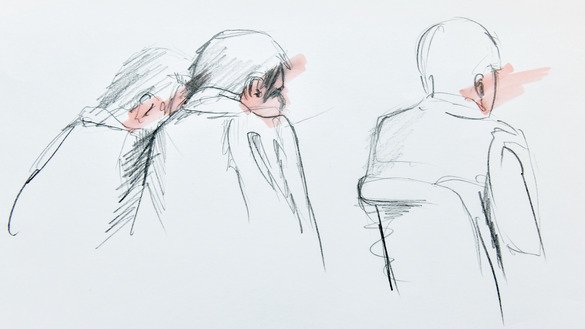 Three Swedes, including an 11-year-old girl, a 41-year-old British man and a 31-year-old Belgian woman were killed.
Prosecutors formally charged Akilov Tuesday with "terrorism and attempted terrorism".
Akilov wanted to "instigate fear among the public in Sweden and force Sweden's government and parliament to end Sweden's participation in military training of the global coalition against IS in Iraq", the indictment said.
Akilov wanted 'to punish Sweden'
It is still not known why Akilov became radicalised, but "he wasn't radicalised right before the attack", prosecutor Hans Ihrman told reporters.
The prosecution plans to present as evidence Akilov's chat texts dating back to January 2017 concerning his "willingness to carry out a terror attack" and his "desire to join IS", photos of the area taken with his smartphone ahead of the attack and internet searches for possible targets and bomb materials on his computer.
"His motive was to punish Sweden for its participation in the war against IS," Ihrman said.
Akilov's lawyer, Johan Eriksson, told reporters his client would explain his motives further during the trial.
"He admits committing a terrorist act" and "admits that he should be convicted" and expelled from Sweden after serving his sentence, Eriksson said, adding that Akilov had not expected to survive the attack.
"He thought he would be shot or would die."
The Stockholm district court announced Tuesday the trial would start February 13.
Akilov faces a life sentence if convicted.