TASHKENT -- Over the past 20 years, the number of preschools in Uzbekistan has decreased by almost half -- 45% -- and today, only 818,000 out of 2,450,000 children have access to preschool education.
In order to increase enrollment, the government of Uzbekistan is actively investing in the preschool sector. The World Bank is supporting this effort through a project that aims to enroll over 100,000 boys and girls aged 3-6 years in over 2,400 rural preschools nationwide by July 2019.
Currently 56,000 children are enrolled -- for the first time -- in a half-day programme, thanks to the Improving Pre-Primary and General Secondary Education Project, which is being implemented by the Ministry of Public Education of Uzbekistan.
The project is financed through a $49.9 million (404.3 billion UZS) grant from the Global Partnership for Education and is administered by the World Bank.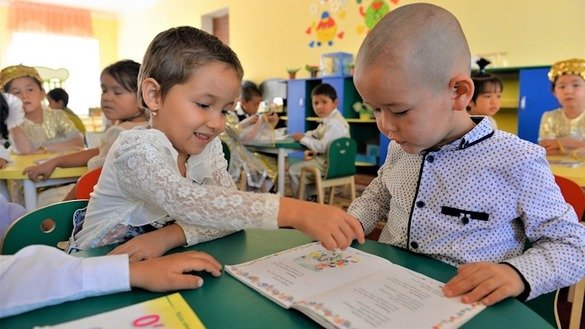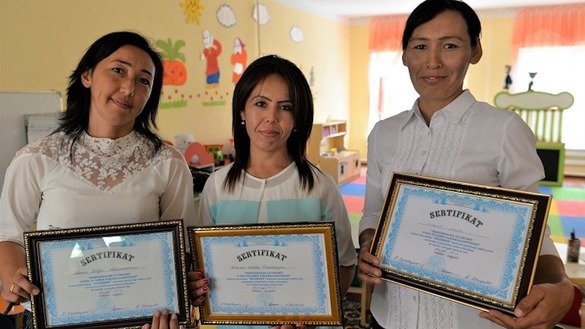 The project is aimed at improving educational opportunities in underserved areas across Uzbekistan and includes a half-day year-round school readiness programme for children aged 5-6 years.
By July 2019, about 100,000 children will have benefitted from the half-day programme in 2,420 rural kindergartens, comprising about 49% of all preschool educational institutions, or more than 90% of rural kindergartens in the country.
Investing in early childhood education
International evidence demonstrates that high-quality early childhood care and education (ECCE) has significant and long-lasting social and economic benefits for children, their families and society at large.
Early childhood (0-6 years) is a critical period in a child's physical, cognitive, linguistic and socio-emotional development: what children experience in these early years shapes and defines their futures.
A study shows that preschool attendance correlates with employment outcomes in Uzbekistan and with having a better formal sector job later in life. For instance, 73% of adults aged 25-64 years who attended preschool were employed, compared with just 58% of adults who did not.
ECCE can mean broader benefits for families. In Uzbekistan, mothers and female siblings are responsible for the care of young children. However, with the availability of affordable preschools, women could have more time to seek employment, while girls could devote more time to studies.
Improving preschool enrollment
In 2012, Uzbekistan's preschool enrollment rate, at 23.3%, was among the lowest in the world. In 2013, just 5% of the poorest households in the country had children enrolled in preschools.
In 2017, however, the enrollment rate increased and reached 29% of children aged 3-7, following measures taken by the government.
The government recognises the importance of investing in early childhood education, and it has announced an ambitious plan to expand ECCE services provision with the aim of achieving 100% enrollment for children ages 6-7 by 2021.
With this goal, it established the Ministry of Preschool Education in September 2017 to play the lead role in the expansion of ECCE in Uzbekistan.
In addition, the authorities increased public funding to improve ECCE infrastructure.
Under the 2018 state budget, more than $100 million (810.2 billion UZS) -- three times more than in 2017 -- was allocated to equip preschools across the country. In February 2018, the government took the decision to increase salaries of preschool teachers by 30% in order to make these jobs more attractive to qualified education professionals.
Half-day groups benefit low-income families
New initiatives in Uzbekistan include half-day groups, which operate five days per week from 8.00am to 12.00pm.
"Many parents, especially from low-income families, choose half-day groups in kindergartens because of their affordability," said Mavluda Nishanova, a project consultant at the Ministry of Public Education.
"A monthly fee per child in rural area is about 15,000 UZS (less than $2)," she said. "In fact, it just covers the cost of daily breakfasts, while children receive all services and educational supplies free of charge. The four-hour schedule is also convenient for parents working part-time and women dealing with housekeeping."
The half-day programme requires fewer public resources per child than does the standard full-day programme. At the same time, children who spend four hours at half-day groups receive the same care and training as their peers in full-day groups.
[The World Bank Group authorises the use of this material subject to the terms and conditions on its website, http://www.worldbank.org/terms.]