ASTANA -- Deluded Kazakhs who go to eastern Ukraine to help separatists battle the government in Kyiv will face severe punishment if they make it back home, warns the Kazakh government.
Astana has denounced Russian-backed separatism in eastern Ukraine since that conflict broke out in 2014.
The General Prosecutor's Office on October 30, 2014, warned Kazakh citizens against joining separatist forces in eastern Ukraine, noting that such combatants are subject to prosecution.
Several Kazakhs have run afoul of that law anyway. Courts in Astana, Aktobe, Atyrau and Ust-Kamenogorsk have sentenced Kazakhs who fought in eastern Ukraine to three to five years' imprisonment.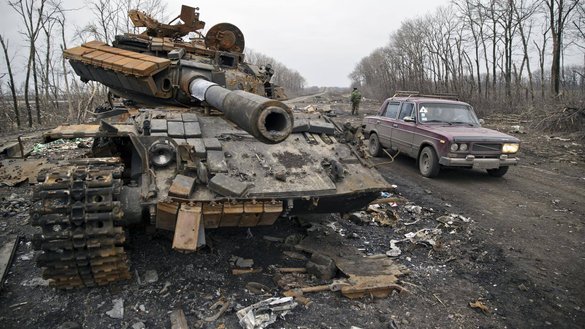 Many of those mercenaries who went fell victim to propaganda spread by Russian media, which have great sway over information in Kazakhstan, according to local observers.
Nikita Stepin's case
A court in Karaganda Province sentenced Kazakh citizen Nikita Stepin, 32, to 25 years' imprisonment for fighting in eastern Ukraine for the separatists and for committing two murders in Kazakhstan, Radio Free Europe/Radio Liberty (RFE/FL)'s Kazakh service reported May 30.
Stepin, a resident of Temirtau, traveled to eastern Ukraine twice -- in February 2015 and the spring of 2016 -- and spent about two years there overall.
According to the case file, Stepin was in Lugansk when he joined the "Matvei Platov Great Don Army" combat unit, which was created in the spring of 2014 in eastern Ukraine to support separatists. Prior to participating in combat, he underwent military training there.
Police searching Stepin's residence found a military ID card, a certificate giving him a rank in the modern-day Cossacks and a military decoration "For Freeing the Donbass".
Stepin's lawless ways continued after he returned home to Temirtau. Last July, in a dispute over ordinary matters, he shot two local residents to death.
In addition to serving five years in a maximum security prison labour camp followed by 20 years in a maximum security prison, the court ordered Stepin to pay about 4 million KZT ($12,000) in compensation to the victims' relatives.
During his trial, Stepin said he did not consider himself guilty even though he fought on a side that Kyiv considers to be terrorists.
"I didn't know that volunteering on the side of the LNR [the self-proclaimed Lugansk People's Republic] was against the law in Kazakhstan," he said. "It isn't illegal for Russians."
The LNR does not exist, countered Judge Islamkhan Yesenbayev, according to RFE/RL's Kazakh service.
"You weren't fighting in an existing state," he said, "just in a mob that fights and kills others."
Brainwashed by Kremlin-controlled media
Many Kazakhs, particularly in the north along the border with Russia, receive most of their information from Russian media, Aydos Sarym, an Almaty-based political scientist, told Caravanserai.
"Our fellow citizens who went to fight in Ukraine blindly believed the destructive propaganda announcements that the Kremlin circulates," he said.
That's why they started committing crimes, including slayings abroad, and destroying their own lives by doing so, he said.
Residents of northern Kazakhstan live in a kind of limbo between Russia and Kazakhstan, he said.
"The majority of [northerners] watch Russian television channels more frequently than Kazakh ones," he said. "So many don't even know that our prime minister is Bakhytzhan Sagintayev, not Dmitry Medvedev."
The failure of many northern Kazakhs to identify as Kazakh threatens national security, Sarym said.
"If someone blindly believes Russian media, whose side will he choose if a conflict breaks out between the two countries?" he said.
"It is unpleasant and worrisome," he said. "We can't allow this to become a mass phenomenon. If the number of pro-Russian separatist sympathisers grows and [they] ignore Kazakhstani laws, then it'll be a serious signal for Astana."
"The 'zombie channels' from Russia need to be blocked" to prevent brainwashing of Kazakhs, said Ulan Shamshet of Almaty, a civil society leader and a member of the Antigeptil environmental movement.
In addition, Kazakh media should do a better job of covering the Ukrainian situation broadly and fairly, he told Caravanserai.
Kazakhs call for severe punishment for separatism
Kazakh citizens are calling on authorities to take decisive action to prevent people from being swayed by separatist movements.
"It is frightening to think how many such people, hidden militiamen with separatist tendencies, there are in our country ... They have to be strictly monitored," Nurjan Kuanbayev, a 41-year-old taxi driver from Shymkent, told Caravanserai.
"Imperial Russia has put its tentacles deep into us and is keeping us from travelling our own path," he said.
Mirlan Telebarisov, a public relations specialist in Almaty, said a stronger economy and prosperity are essential elements of a healthy society.
"You will be happy to call Kazakhstan your home if you are satisfied with your standard of living here," he told Caravanserai. "And then no one will come up with any thoughts about separatism."