BISHKEK -- A new police force in Kyrgyzstan emerging from recent reforms will be responsible for general public safety, with a focus on building public trust.
The unit results from a merger between the traffic police (Russian acronym, GUOBDD) and the Police Patrol and Checkpoint Service, according to President Sooronbay Jeenbekov's press office.
The new force "will be responsible not only for safety on the roads but in general for public safety in its assigned territories", said Tamerlan Ibraimov, director of the Bishkek-based Centre for Political and Legal Studies, during a meeting with Jeenbekov Monday (November 5).
The officers "will be constantly on the move to patrol their territory, detect crimes and prevent crimes", he said.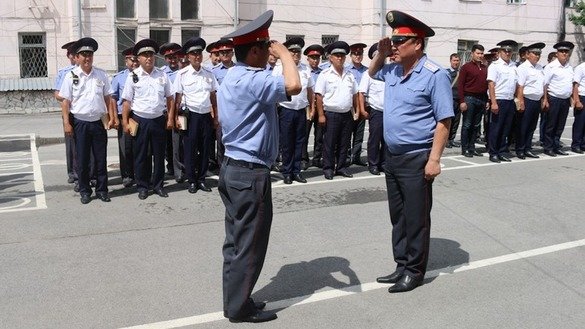 "The most important thing is that the patrol police is turning into a social service aimed at helping citizens," Ibraimov said.
The employees of the new force will undergo training that meets the latest requirements based on global experience, including on legal basics, ways to interact with the public, and first aid, among other areas, according to Ibraimov.
The force will also be better funded than its predecessors and will receive modern equipment and communications technologies, he said.
The patrol force will first be established as a pilot project in Bishkek in 2019-2020, after which it will be expanded throughout the country.
Fighting corruption, bribery
"The president has set the objective to create an efficient, public-oriented service, with zero tolerance for corruption, which will be trusted by the public," Ibraimov told 24.kg September 10 while introducing the initiative.
Strict measures against corruption within the patrol police are planned, he said.
Bribes are a common occurrence among traffic officers, who take money from those who violate traffic rules on the spot and do not issue tickets, Ibraimov said, adding that drivers find the bribe much cheaper than an official fine.
To halt bribery, authorities should take away police officers' right to confiscate drivers' licenses, said Ibraimov.
No driver fearing difficulty with a bribery-minded police officer "wants to give up his license, then have to go a police station and stand in line to regain it", he said.
At the same time, officers must value their jobs in order to have an incentive to reject bribes. Therefore, officials are planning to increase the salaries of police as part of the reforms, according to Ibraimov.
Potential growing pains
The recent reforms are an improvement on a reform initiative from two years ago, Kairat Osmonaliyev, a professor and a reserve police lieutenant colonel from Bishkek, told Caravanserai.
He expressed hope that the new reforms will bear fruit because the plans had the approval of the country's top leadership and because the Security Council is monitoring its implementation.
Other analysts, however, have concerns.
The merger of the GUOBDD and the Police Patrol and Checkpoint Service will be inefficient because the two functionally different services will be unable to perform tasks in which they lack experience, predicted Esen Saliyev from Bishkek, a former department head in the Interior Ministry (MVD).
A lack of funding will also make itself felt, he told Caravanserai.
The monthly salary of 5,000 to 11,000 KGS ($72 to $157) is too low and will not encourage enough newcomers, leading to staff shortages, he said.
Learning from Kazakhstan's experience
Residents of Bishkek hope the reform will help strengthen public order and road safety.
"In Kazakhstan, these two services have already united, and now the [Kazakh] Interior Ministry is reporting a decrease in crime rates," said Sergei Kostenko, a schoolteacher from Bishkek.
"It would be better if [officers in] police cars not only monitor traffic violations but also catch criminals," he told Caravanserai. "It's time for us to learn from this experience."
Aliya Smykova, a homemaker from Lebedinovka village outside Bishkek, also expressed hope that the merger would reduce crime.
"Ibraimov said that all our patrol police officers will have excellent physical training," she told Caravanserai. "This is good, because they need to be able to catch up with criminals!"