ALMATY -- Dozens of children who have returned to Kazakhstan with their families from Syria and Iraq are receiving specialised rehabilitation and education at Kazakh support centres, civil society activists say.
Over the past two years, 39 families, including 91 children, returned to Kazakhstan, Bnews.kz reported December 19.
"They are citizens of Kazakhstan, although they were born in other countries," Olga Ryl, chairperson of the NGO Pravo (Law), said during a seminar in Almaty on de-radicalisation and rehabilitation of under-age youth returning from zones of terrorist activities.
Kazakhstan has 13 centres de-radicalising and rehabilitating citizens who have returned from war zones, she said, according to Bnews.kz. These centres are in Karaganda, Zhambyl and Aktobe provinces, as well as the cities of Kokshetau, Atyrau, Jezkazgan and Kaskelen.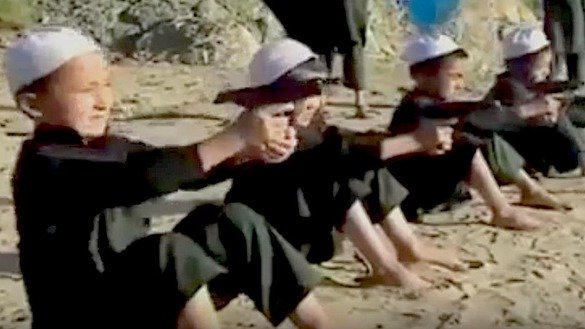 The centres serve two purposes, Ryl said. They provide housing for the families immediately after their return, and they provide legal assistance. The centres also provide job training for women.
In some cases, children have lost both parents and their own identification documents and need to prove Kazakh citizenship, said Lesya Karatayeva, an Almaty-based terrorism and security analyst.
In other cases, a Kazakh woman goes to Syria with her husband and children, but then her husband dies and she is married off to another militant -- who could be from any country, she said.
"She bears his children, and he doesn't necessarily have a Kazakh passport," she told Caravanserai. "We can't split the family, nor can we leave the children in Syria because their fathers aren't Kazakh citizens."
"Therefore, Syrian authorities are investigating their involvement in terrorist activities," she said. "If Syria has no judicial claims [against them], then they return these people to us."
"The return of even 90 children is a huge victory for the government agencies responsible for this process, in particular the Foreign Ministry," Karatayeva said.
Making progress
Women and children stay in the rehabilitation centres anywhere from six months to one year, depending on the type of legal assistance and rehabilitation required, Ryl said.
"It requires a rather lengthy period to restore documents," she said, adding that obtaining a birth certificate can take at least three months.
Nonetheless, the rehabilitation centres are seeing progress.
The first child who returned to Kazakhstan three years ago successfully underwent rehabilitation and is in the 7th grade, Ryl said.
Out of 40 parents who have returned to Kazakhstan, 13 are now employed, she said. Another 13 are unemployed because they are raising children under the age of three. Of the remaining 14 still seeking employment, six have completed professional courses.
Although the centres are working to de-radicalise youth who have returned from hot spots, the risk that they will be attracted to extremist organisations remains, reported Eurasia TV December 19.
To address this risk, the National Security Committee and the Ministry of Social Development are planning to launch a programme this year to train theologians to work with children returning from war zones, according to Eurasia TV.
"It is very important for us that these children, upon their return to Kazakhstan, have the chance to enter a quiet, normal life," Minister of Education Yerlan Sagadiyev told the TV programme. "There are social issues and deep psychological trauma. This takes co-ordinated work by psychologists, social workers and government agencies."
Creating a happy childhood
Rehabilitation of children differs from de-radicalisation of adults, said Asylbek Izbairov, director of the Institute for Geopolitical Studies in Astana.
Children do not need complex theological terminology, he told Caravanserai. It is enough to create a happy childhood to heal their emotional wounds.
"The situation with adults is different," Izbairov said. "If they are steeped in extremist ideology, then serious theological work is needed to persuade them."
"A woman might be broken as an individual before she commits a terrorist act and later needs strong psychological help to pull her out of this condition, but a child under age 10 isn't immersed in this ideology," he said. "Even if children commit some illegal acts, they're doing it unwittingly, on orders."
Children shown holding weapons in militant videos did not pick them up by choice, Izbairov said. They are either following their parents' example or following orders from their minders.
Parents who repent and recognise they were misled are an important part of their own children's rehabilitation process, he added.
Reintegrating into society
De-radicalisation and rehabilitation of citizens returning from war zones are not new in Kazakhstan, according to Karatayeva, the security analyst from Almaty.
A government programme has been operating for several years to rehabilitate men convicted of committing terrorist crimes, she said. Educators and clerics also work with their wives to reduce radicalisation and to prevent attempts to go to Syria.
However, the country has not previously experienced a mass return of children from foreign wars, said Karatayeva.
Often, before rehabilitation can begin, the children need to be re-learn the Kazakh or Russian they forgot living in the Middle East, she said.
"The goal is to reintegrate them into Kazakh society; i.e., the children need to go to regular schools and kindergartens and be socialised there, and for them to not feel separate from society," she said. "The mothers also need state support. After all, they don't have jobs. They need health care."
"We need to ... allow children to reintegrate into society as quickly as possible, but to do this carefully, so that they don't hit obstacles and don't become pariahs," Karatayeva said.
"The Education Ministry is creating new programmes for this purpose," she said. "Society itself must prepare to receive these people and give them a chance to have a normal life."