KABUL -- A meeting between Taliban representatives and a number of Afghan opposition politicians in Moscow is an attempt to interfere with Afghanistan's internal affairs and derail the peace process, Afghan lawmakers and analysts say.
The two-day sit-down in Moscow, which ends Wednesday (February 6), will be attended by some of Afghan President Ashraf Ghani's chief political rivals. None of the government's envoys tasked with peace negotiations have been invited to attend.
"The Moscow meeting is nothing more than a fantasy," Ghani told TOLOnews.
"No one can decide without the consent of the Afghan people.""Those who have gathered in Moscow have no executive authority. They can say what they want," he said.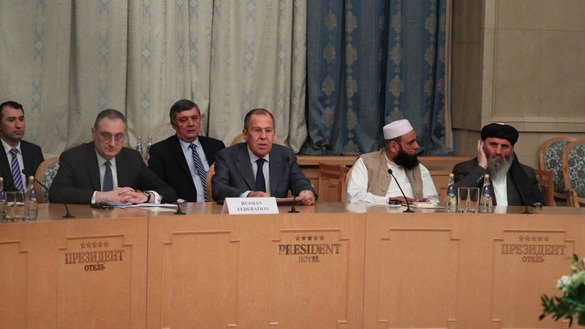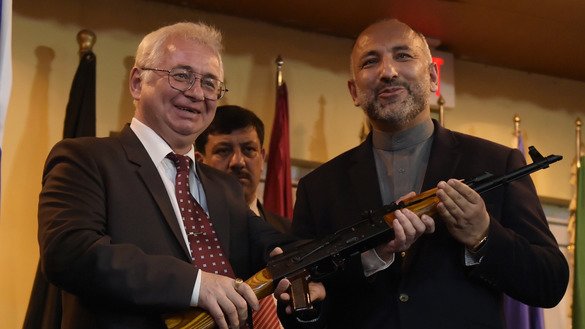 Ghani has repeatedly invited the Taliban to negotiate directly with the Afghan government, while at the same time supporting the role of US Special Representative for Afghan Reconciliation Zalmay Khalilzad in negotiations.
Khalilzad recently briefed Ghani on six days of discussions with Taliban representatives in Doha last month that sealed the outlines of a peace deal.
The Taliban and US officials are scheduled to hold another round of peace talks in Doha on February 25.
An 'attempt to sabotage' peace efforts
"There is optimism about peace efforts with the Taliban, as they held several meetings in Doha," said Mohammad Farhad Sediqi, a member of the Wolesi Jirga (lower house of parliament) representing Kabul Province.
"But at this critical moment, Russia holds another meeting without the presence of the Afghan government," he said to Salaam Times. "I consider this meeting an attempt to sabotage the negotiations."
The Russian Embassy in Kabul said it had invited "influential figures" on behalf of the "Afghan Society of Russia", a claim denounced as disinformation and a cover for official Russian government involvement in the talks.
"We are ready to play our role in bringing peace to Afghanistan," the statement read.
It is not clear what role the Russian government has in the summit. However, a Russian official told Reuters January 31 on condition of anonymity, "At this sensitive stage, it was best to not have Afghan government officials at the table."
Among those who have confirmed attendance in Moscow is Muhammad Hanif Atmar, who is running against Ghani in the presidential elections scheduled for July 20. Former warlord Atta Muhammad Noor and Hamid Karzai, the former president -- both Ghani rivals -- are also attending.
A government-appointed council tasked with Taliban engagement said Sunday it was not invited to Moscow.
Russia has 'no intentions for peace'
This is not the first time Russia has attempted to hold a "peace conference" with the Taliban.
The last such event, in November, failed in its stated purpose to formalise negotiations between the Afghan government and the Taliban and instead offered more evidence of splintering among Taliban factions and of Russia's meddling in Afghan affairs.
"Negotiations between the Taliban and some individuals will never help us to achieve peace and stability or end the war in the country," said Najibullah Azad, a Kabul-based political analyst and former deputy spokesman for Ghani.
"The Russians and the Taliban have decided to hold this meeting only for their own benefit," he told Salaam Times. "It will harm the people of Afghanistan."
"The Taliban and the Russians negotiate with some individuals and political parties because they want to show that the Afghan government is illegitimate," he said. "Any secret agreement with the Taliban is a national betrayal and disrespects Afghan security forces."
The meeting in Moscow defies the "norms, principles and ethics of diplomacy", Azad said.
"Russia has an embassy in Kabul and a special representative for Afghanistan," he said. "The issues related to our country, especially peace talks, should be discussed with the Afghan government."
"Without consultation and co-ordination with the Afghan government, Russia is violating all principles and ethics of diplomacy by hosting this meeting," he said.
"At the second round of the Kabul Process peace conference, participating countries -- including Russia -- agreed that the peace process should be led and owned by the Afghan government," he said.
"But in practice, we see that this is the second time Moscow has not fulfilled its commitment," Azad said, referring to the earlier meeting last year.
"The only legal and official authority to represent Afghans is the government of Afghanistan, not political parties or Russia," said Sayed Hamed Anwari, a Kabul-based political analyst.
"Holding this meeting with the participation of some political parties is contrary to the laws of Afghanistan and our national interests," he told Salaam Times. "Only the Afghan government can hold and manage the negotiations."
"Russian leaders hold these meetings to disrupt and challenge the peace efforts," he said. "Moscow has no intentions for peace."
Moscow talks an 'embarrassment'
The frustration with the Taliban's lies and back-door meetings in Moscow was palpable among top Afghan officials.
Amrullah Saleh, former acting minister of interior and former head of the National Directorate of Security, accused the Afghan participants in Moscow -- including Hamid Karzai, the former president -- of "begging... terrorists".
"It is a MUST that an Afghan nation state represent the country within & abroad," Saleh tweeted February 6.
"Afghans who agree to attend in chaotic foreign conferences, knowingly or unknowingly, reinforce the narrative of the enemy next door that we are a web of tribes & not a state. Don't be 'Useful Idiots'," he said.
"Kabuli participants at Moscow gathering listened to insults & rants from the reps of terrorist Taliban & secured nothing in return," he said February 5, calling it a "marvelous embarrassment".
"Moscow Afghan peace talks, between Taliban and some Af political parties, in the absence of Afghan government, is a waste of time and only further legitimizes the Taliban," Afghan Second Vice President Sarwar Danesh tweeted February 5.