BAGHOUZ, Syria -- The US-led international coalition has pronounced the death of the so-called "caliphate" of "Islamic State" (IS) Saturday (March 23) after flushing out diehard fighters from their very last bastion in eastern Syria.
"The end of the so called physical caliphate is a historic military accomplishment that brought together the largest coalition in history, but the fight against [IS] and violent extremism is far from over," said US Army Lt. Gen. Paul LaCamera, Combined Joint Task Force–Operation Inherent Resolve commanding general.
Fighters of the US-backed Syrian Democratic Forces (SDF) raised their yellow flag in Baghouz, the remote riverside village where holdout fighters of a variety of nationalities made a futile last stand.
The SDF's victory capped a deadly six-month operation against the final remnants of the terrorist group's territory, which once stretched across a vast swathe of Iraq and Syria and held seven million people in its sway.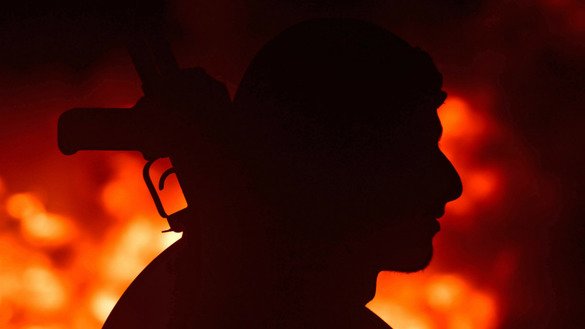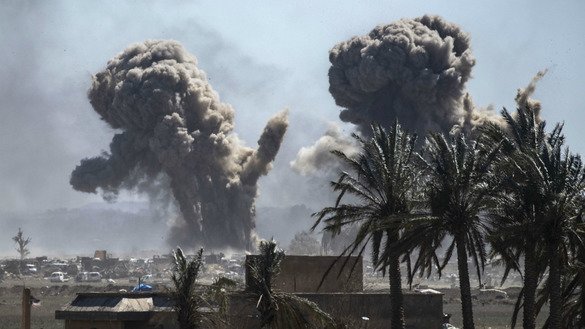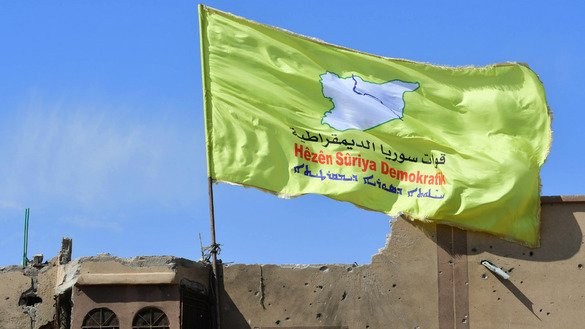 Saturday's announcement will go down as a symbolic date in a war that changed the face of the region and spurred a spate of global terror attacks.
'It is important for us to remember all those who died during the fight against [IS]. During this four-year campaign, thousands of SDF and Iraqi Security Forces did not return to their families. I pray for your losses, and for a speedy recovery of your wounded," said LaCamera.
In Al-Omar, an oil field used as the main SDF staging base for the final phase of the assault, fighters in their best fatigues laid down their weapons and broke into song and dance.
A military band played anthems, including the "Star Spangled Banner", as a ceremony attended by Kurdish top brass and officials got under way.
Timeline of terror
IS leader Abu Bakr al-Baghdadi in mid-2014 declared the formation of his proto state after the group spawned from unrest in Iraq and Syria.
He made al-Raqa, Syria, his de facto capital. In that city, IS carried out beheadings, mass executions, rapes, abductions and ethnic cleansing. It stoned to death women suspected of adultery and slaughtered accused homosexuals.
Many of the atrocities were broadcast on video, which the jihadists used as a prop for its then-well funded propaganda machine.
In Iraq, IS seized the historic home of the Yazidi minority in Sinjar region, turning young children into soldiers and capturing thousands of women to be used as sex slaves -- just some of the human rights abuses and war crimes committed by the group.
In August 2014, US warplanes began striking IS positions in northern Iraq. Washington then formed a coalition of more than 70 countries to fight the group in both Iraq and Syria, deploying 5,000 soldiers throughout the region.
By 2017, the fight against IS reached a turning point, when parallel offensives in Iraq and Syria wrested back its main hubs, Mosul and al-Raqa.
The territory administered by the remnants of IS continued to shrink month after month, and last September the SDF launched a final offensive on the last dregs of the "caliphate" in its Euphrates Valley strongholds.
SDF fighters last week expelled the last IS fighters who refused to surrender from an encampment on the edge of Baghouz and have since been hunting down a few survivors hiding on the reedy banks of the Euphrates.
The nearly five years of fighting against the most brutal jihadist group in modern history left thousand-year-old cities in ruins and entire populations homeless.
Still a threat
While the SDF taking Baghouz marks the end of the IS state, the jihadists still pose a threat.
"Make no mistake, [IS] is preserving their force," LaCamera added. "They have made calculated decisions to preserve what is left of their dwindling personnel and capabilities by taking their chances in camps for internally displaced persons and going to ground in remote areas. They are waiting for the right time to reemerge."
IS fighters who escaped the shrinking territory in time and reorganised their group are already re-establishing their former sanctuaries in Iraq.
Even the Pentagon has warned in a recent report that the absence of sustained counter-terrorism pressure on IS would allow the jihadists to reclaim some territorial control within months.
"We recognize that military action alone will not ensure success and will continue to advocate continued support towards the enduring defeat of [IS]. International support to Iraq and northeast Syria is critical to the success of the enduring defeat of [IS]. More importantly, we must redouble our efforts at defeating their ideology," LaCamera concluded.