NUR-SULTAN -- Kazakh citizens voluntarily turned in about 1,500 weapons to police stations across the country during the first month of a gun buy-back and amnesty campaign, the Interior Ministry (MVD) said in a statement Monday (May 13).
"In order to ensure public safety and prevent crimes involving the use of firearms, from April 10 a campaign is being held throughout the country to buy back illegally owned firearms, ammunition and explosives from the public," the ministry said.
Kazakhstan has allocated 100 million KZT ($263,000) to compensate those who surrender their weapons, according to the MVD. The MVD did not announce the ending date for the buy-backs, but apparently they will end when the allocated money runs out.
Citizens who voluntarily give up unregistered firearms and ammunition are exempted from criminal and administrative liability and will receive monetary compensation, it added.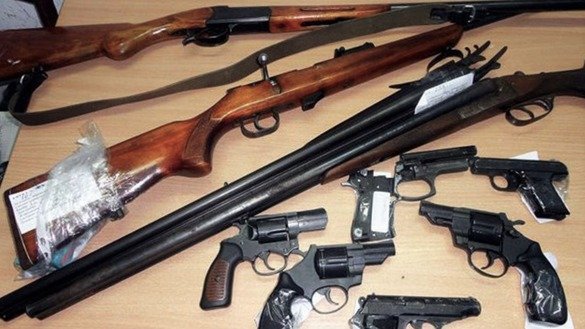 "The campaign for buying back unregistered weapons can be useful to those who inherited an old gun, have leftover ammunition and gunpowder or obtained weapons in some other way," Nikolai Kolesnikov, an experienced hunter from Zhambyl Province, told Caravanserai.
"In the case of voluntary surrender [of weapons], the state guarantees exemption from liability as well as compensation, which can be very attractive for the owner of an illegal gun," he said.
In Kazakhstan, citizens may own hunting weapons and self-defence devices such as gas pistols and pepper spray.
"The purchase of a weapon requires obtaining a permit from the MVD. To purchase a hunting rifle, you also need a hunting licence," Kolesnikov said. "Also, great attention has been paid recently to the safe storage of weapons -- every hunter or gun owner must have a safe equipped with an alarm system."
Police officers occasionally check a weapon's storage conditions, and if they find a violation of the rules, the owner of the weapon could face a fine or confiscation, he said.
Foreign citizens residing permanently in the country may not purchase a weapon -- only citizens of Kazakhstan have such a right, Kolesnikov said.
"If [someone has] a gun, someday it will be definitely fired," he said. "If you don't hunt, it is better to give it [the weapon] up and not break the law."
Compensation
Compensation for each weapon ranges from 25,000 KZT to 250,000 KZT ($66 to $660), depending on its condition. Owners may hand in their weapons at at any police station.
The campaign is taking place in accordance with a 2015 regulation on the voluntary, reimbursable surrender of illegally owned weapons. Under the regulation, a police officer will go to the residence of a citizen who offers to give up a weapon.
In regards to explosives and explosive devices, the MVD has urged the public to be especially careful.
The public should avoid handling or transporting any explosive materials or ammunition and should inform police instead, according to a statement published on the MVD website on April 26.
The majority of the weapons that police have collected -- about 88% -- are smooth-bore hunting rifles. The rest are combat and non-lethal pistols. Citizens have also handed over ammunition.
"Since the beginning of the campaign, 101 applications have been submitted for to give up illegally owned weapons in Zhambyl Province," Zhambyl Province police spokesperson Gulsara Mukhtarkulova told Caravanserai.
"Citizens brought to the police 162 weapons -- 18 5.6mm rifles and 144 smooth-bore rifles for total payments of 8.8 million KZT ($23,000)," she said.
Door-to-door visits
In addition to the weapons buy-back campaign, Kazakhstan April 1 launched the crime-preventing Operation Precinct in several provinces. It is scheduled to end June 30 in Nur-Sultan, according to 24.kz. Other areas are likely to wrap up the operation on the same date.
"Door-to-door visits of apartment buildings and houses are being performed by police officers in the cities of Nur-Sultan and Almaty, as well as in Akmola and Mangystau provinces," the MVD said in a statement on April 17.
"During the first 10 days since the beginning of the campaign, neighbourhood police officers visited 425,000 homes and summer cottages, including more than 12,000 rental apartments," it said.
As part of the campaign, police officers identify violations of immigration law, inform residents about the gun buy-back campaign and speak with them about crime prevention.
So far, police have found 3,500 violations of immigration laws by foreign citizens. Courts have ordered the expulsion of 345 foreigners, according to the MVD.
"We know our neighbourhood policeman, so we were not surprised when he came, asked about the relatives who live with us, checked their documents and gave us his business card," Galiya Kojatayeva, 47, of Nur-Sultan, told Caravanserai.
"We understand that this is done for our own safety, because newcomers could include criminals and extremists," she said.