NUR-SULTAN -- Kazakh authorities on July 1 launched their annual operation to buy back illegally stored weapons from the public.
The campaign continues until officials have spent the funds allocated for buying back guns. They have not disclosed this year's amount.
Last year, the government allocated 100 million KZT ($263,000).
During the first week of the campaign, which is occurring online because of the coronavirus pandemic, law enforcement personnel collected more than 100 illegal weapons across the country, the Kazakh Interior Ministry (MVD) said in a statement.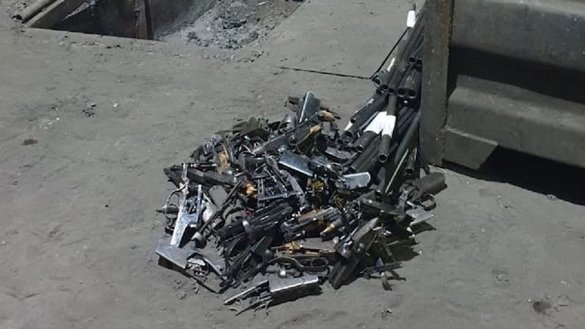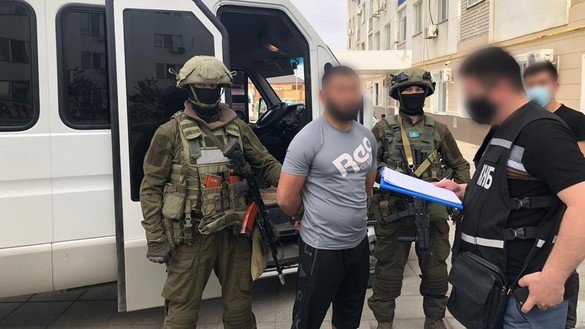 "In compensation for the voluntary relinquishment of armaments... payment of between 27,780-277,800 KZT ($68-$680) is expected for each weapon, depending on the weapon's operating condition," the MVD said.
Those who voluntarily turn in unregistered weapons will not face criminal or civil liability, according to the ministry.
Because of the coronavirus pandemic and quarantine, gun owners may submit an application to the police online or call 102.
Police officers will go to the address listed on the application and collect the weapons. Those who relinquish their weapons will receive the payment directly in their bank account.
The weapons and related items handed back so far this year include hunting rifles, ammunition, gas pistols, rubber-bullet handguns and smooth-bore and grooved-bore weapons.
In Zhambyl Province, during the first week of the programme, 27 residents turned in 54 individual weapons, for which authorities paid out 3 million KZT ($7,400) in total.
Meanwhile, police in North Kazakhstan Province collected 31 weapons, mainly hunting rifles, in the first three days.
In Kostanay Province, the programme is already almost over after residents turned in 43 weapons in the first few days of the programme. Out of the 3.2 million KZT ($7,900) allocated, authorities have paid out 2.5 million KZT ($6,150).
Destroying weapons
After taking the weapons, the police saw them into pieces and melt them down.
"Kazakh law doesn't provide for the legalisation of the confiscated weapons, so they're destroyed," said Alibek Basheyev, a Nur-Sultan-based lawyer.
Owners have offered a variety of explanations for how they got the weapons. Some said they received the weapons from their parents, while others claimed to have found the weapons on the steppe.
Although those who turn in weapons do not face prosecution, the police check to see if the weapon might have been used in a crime, said Basheyev.
The voluntary surrender of weapons is beneficial not only because owners are not held liable but because they can make money, he said.
"If someone turns in an unregistered gun, they can, for example, get 100,000 KZT ($250). That's more than its ... value on the black market," Basheyev said.
The MVD launched the programme in 2012 to buy back illegal weapons from the public.
Since then, authorities have purchased more than 51,000 individual weapons and 2 million rounds of ammunition.
Since the programme began, the number of crimes committed with firearms has dropped from 694 in 2012 to 238 in 2019, say officials.
Preventing terrorism
It is very "important to confiscate illegal weapons, which could fall into the hands of criminals or terrorists", said Basheyev.
On June 3, the National Security Committee (KNB) announced the arrest of five suspected members of one such group in Atyrau. They allegedly were involved in extorting money from business owners in the region and were linked to trans-national crime rings.
Authorities seized a pistol, a sawed-off hunting rifle and ammunition.
Also in Atyrau, the KNB and police on June 8 detained a 32-year-old suspected follower of an extremist movement who allegedly had been distributing synthetic drugs.
Law enforcement seized drugs, prohibited religious literature and improvised explosive device (IED) components from him, reported Tengri News.
"Extremists and followers of destructive ... movements interpret the Koran and scriptures in a twisted way. So as they seek financing for their criminal activity -- they aren't above blackmail or above weapon or drug deals," said Murat Argimbayev of Shymkent, a theologian.
Thanks to law enforcement agencies and preventive efforts, not one terrorist act has taken place in Kazakhstan in recent years, he said.
"But a few attempts to carry out terrorist acts have been thwarted. It's a constant battle, and we can't let up," said Argimbayev.