NUR-SULTAN -- Kazakh law enforcement personnel have launched an operation to seize illegal weapons in the country as part of efforts to keep arms out of the hands of criminals and extremists.
Kazakhstan began Operation Karu (Weapons) in late May in various provinces across the country, the Interior Ministry (MVD) said in an statement on May 26.
"The main objectives of this measure are to prevent, break up and uncover firearm-related crimes; identify individuals and organised criminal groups involved in the illegal storage, manufacture and trafficking of weapons, ammunition and explosives; and uncover instances of illegal storage and sale of weapons and ammunition," the ministry said.
Police so far have checked 4,500 gun owners in Turkistan Province and seized 27 weapons, resulting in 186 administrative offences related to improper weapon storage.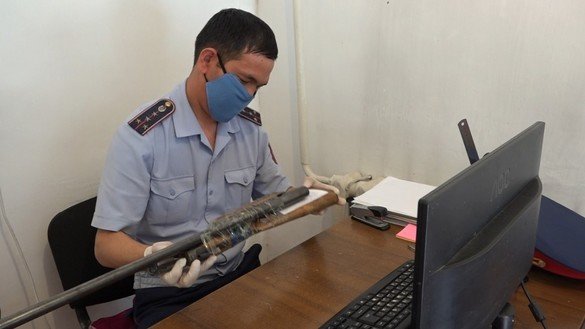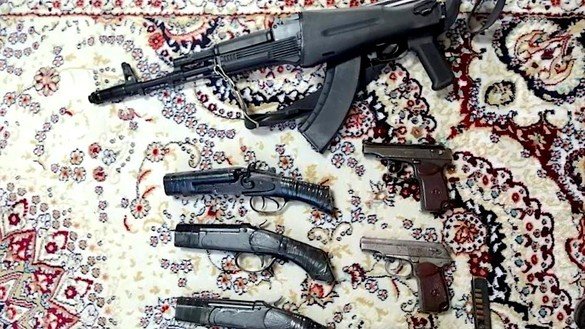 In Pavlodar Province, police seized 21 illegally stored weapons and discovered 176 violations of storage rules. In one instance, Pavlodar police officers found and seized a homemade handgun.
In Nur-Sultan, police checked more than 2,000 owners of individual weapons and seized six weapons and ammunition. At one road checkpoint, they seized a motorist's unregistered pistol.
In another case, they confiscated a Nur-Sultan resident's sawed-off hunting rifle.
Fight against extremism
Weapons violators face charges under Article 287 of the country's Criminal Code for illegally possessing or carrying firearms, according to Nur-Sultan-based lawyer Alibek Basheyev.
"When you surrender weapons voluntarily, you have no criminal liability," he said. "But of course, this must not be done when the police have found your weapon, but rather you need to contact law enforcement agencies on your own initiative."
Police are checking weapons permits and owners' storage conditions for guns, said Basheyev.
"You must store weapons in a safe with an alarm. This way of storing registered weapons prevents them from falling into the hands of criminals or terrorists," he said.
"In many instances of terrorist attacks that have either been prevented or committed in Central Asian countries in recent years, we were dealing with extremists who had illegal weapons in their hands," said Shymkent-based political analyst Rauan Dautaliyev.
Preventing illegal weapons is among the effective measures against militancy, he said, listing other measures like identifying extremist materials on the internet, conducting counter-propaganda and increasing religious literacy.
Raising awareness
As part of the weapons operation, police officers are working to raise awareness among the public on the voluntary surrender of illegally stored weapons and ammunition, said the MVD.
Because of the coronavirus lockdown, many owners of legal hunting weapons have not been able to renew their permits to store and carry weapons and therefore will not be fined, said the Kazakh government. They have until July 10 to comply with permit rules.
At the same time, the National Security Committee (KNB) is taking active measures to prevent illegal weapons from falling into the hands of criminal elements and terrorists.
On May 27 in Almaty Province, authorities arrested 30 suspected members of two criminal groups and seized 11 firearms and more than 200 rounds of ammunition, according to the KNB.
In March, the KNB announced the arrest of an unspecified number of suspected members of a crime ring for trying to smuggle guns from Russia into Kazakhstan.
The Karu operation follows a campaign last year by the government to buy back illegally stored weapons from the public.
Authorities compensated owners for voluntarily surrendering weapons and exempted them from criminal liability for possession of unregistered weapons.