NUR-SULTAN -- Kazakhstan vowed to co-operate more closely with the United Nations (UN) in resolving pressing security problems throughout the world by providing military equipment for peacekeeping missions.
Askar Zhumagaliyev, the minister of Kazakhstan's Digital Development, Defence and Aerospace Industry (DDDAI), met with UN Under-Secretary-General for Field Support Atul Khare on May 28 in Nur-Sultan. They were joined by other officials including Kazakh Ambassador to the UN Kairat Umarov and UN Resident Co-ordinator for Kazakhstan Norimasa Shimomura.
Their discussions centered on Kazakhstan providing military and thermal-imaging equipment for UN peacekeeping missions and co-operation in satellite monitoring, the DDDAI said in a statement. Increased collaboration in computerisation and telemedicine was also discussed.
The DDDAI welcomed Khare's proposal for the Kazakh military to supply equipment to UN peacekeeping missions, emphasising that the country has "significant potential and a desire to strengthen co-operation in this direction".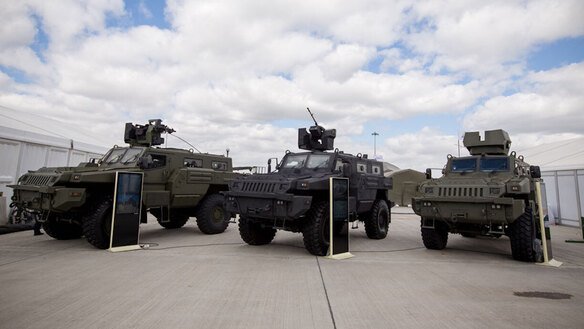 "Today, a sufficient number of enterprises producing military vehicles and equipment, including armoured cars, helicopters, thermal-imaging equipment, weapons and ammunition, operate in Kazakhstan," Zhumagaliyev said in the statement.
Kazakhstan is enthusiastic about having this "military potential serve the cause of preserving peace," he added.
During the visit, UN officials familiarised themselves with armoured vehicles manufactured by Kazakhstan Paramount Engineering, a South African-Kazakh joint venture and Central Asia's largest manufacturer of such hardware, said Georgy Dubovtsev, a military analyst from Nur-Sultan and chief researcher at the Kazakhstan Institute for Strategic Studies.
"These armoured cars are just right for peacekeeping missions," said Dubovtsev, adding that modern Kazakh optical technology such as rifle night sights and night-vision devices also meet peacekeepers' needs.
Working together
Khare and Kazakh President Kassym-Jomart Tokayev during a meeting on May 28 stressed UN-Kazakhstan co-operation on international security issues.
The Kazakh leader expressed his country's willingness to work with the UN to improve the effectiveness of peacekeeping.
"Unfortunately, the modern world is extremely unstable, so I hope that our joint activities will make the planet more stable and secure," Tokayev said at the meeting.
In addition to working with Kazakhstan on military equipment, the UN aims to strengthen co-operation with the country in other areas including business development.
The UN plans to hold business seminars in Kazakhstan to raise awareness on opportunities in its procurement programmes, said Khare.
At the same time, the UN and Kazakhstan are working together on leveraging technological innovations to improve the effectiveness of peacekeeping missions.
The UN Department of Operational Support, in co-operation with the government of Kazakhstan, hosted the 5th International Partnership for Technology in Peacekeeping Symposium on May 28-May 31 in Nur-Sultan.
The main topic of the conference was "Predict, Protect, Prevent." In addition to technology, participants discussed the possibilities of an international partnership for those involved in peacekeeping operations.
Meanwhile, in January, the UN gave the Kazakh Partnership for Peace Training Centre (KAZCENT) certificates and the right to train peacekeepers from all over the world on how to protect civilians and serve as staff officers, according to a statement by the Foreign Ministry.
UN Under-Secretary-General for Peacekeeping Operations Jean-Pierre Lacroix signed the relevant documents in New York.
Prior to this, the UN conducted a thorough analysis of KAZCENT's material and technical resources, the instructors' training level, and the content and compliance of training courses with UN standards. The centre is the only full member of the International Association of Peacekeeping Training Centres in the region.
Kazakh soldiers in Lebanon
The meetings on co-operation followed the return of Kazakh military personnel from Lebanon in May after they wrapped up a peacekeeping mission there as part of the UN Interim Force in the country.
Kazakhstan sent 120 paratroopers to Lebanon on October 31, 2018. For six months, the Kazakh peacekeepers served near the border with Israel, where they patrolled the area, monitored the observance of a ceasefire and helped the civilian population.
At the end of March, they received UN medals honouring them for their work "in the service of peace," the Kazakh Defence Ministry said in a statement on May 17.
"We didn't just receive medals. For us, above all, this is a sign of respect for our state for its contribution to peacekeeping," Maj. Ayan Nurkasov said in an earlier Defence Ministry statement on March 30.
Military personnel prepared for several years for the mission in Lebanon and they underwent military and psychological training together with US and British forces, it added.
Kazakhstan's participation in UN peacekeeping missions is an indicator of the global community's confidence in the country and in its armed forces, said Kazbek Beisebayev, an Almaty-based political analyst with 18 years of experience in the Foreign Ministry and diplomatic missions in Europe.
Participation in peacekeeping missions will bring important experience to Kazakh armed forces because paratroopers will gain useful military skills under new conditions, Beisebayev said.