ALMATY -- Kazakh officials and spiritual leaders have established a two-pronged approach -- removing extremist content and providing accurate information -- to battle the threat of extremist recruiting online.
Authorities are identifying and blocking dozens of internet resources containing extremist and terrorist propaganda every day, according to Vice Minister of Information and Social Development Nurgul Mauberlinova.
"The ministry constantly monitors internet and social networks to identify illegal content," Mauberlinova said at a briefing July 26 in Nur-Sultan, according to Zakon.kz.
"This is, first of all, the propaganda of terrorism ... extremism, the dissemination of materials calling for suicide, and sites and pages on social networks where drugs and weapons are sold," she said.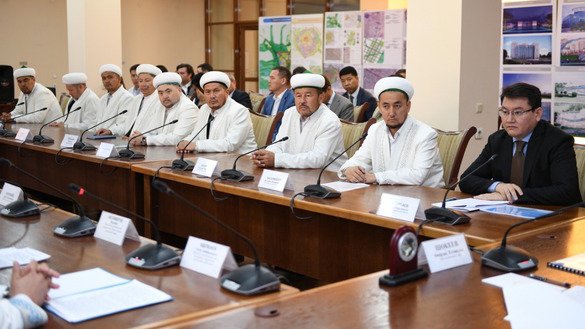 The ministry identified more than 45,000 online materials that violate the law in the first half of 2019, she said. The figure was about 130,000 during all of last year and more than 300,000 in 2017.
"About 90% of such materials promote terrorism, while the rest promote and spread drug [use], the cult of brutality, violence, suicide and pornography," she added.
As examples, Mauberlinova cited videos of savage murders in Syria and calls for "jihad" by militants from Kazakhstan or other Central Asian states.
The authorities are constantly cleaning up the Kazakh portion of the internet, Murat Abdykalykov, chief of the Internet Propaganda Department of the Spiritual Administration of Muslims of Kazakhstan (DUMK), said in an interview.
Three entities in Kazakhstan may block illegal sites: the General Prosecutor's Office, National Security Committee (KNB) and Interior Ministry (MVD).
In the past three years, 167 Kazakhs have been convicted of online terrorist and extremist propaganda.
They included 52 in 2016, 76 in 2017 and 39 in 2018. They were mainly members of international terrorist organisations assigned to recruit new members.
Power of education
"Youth have an information vacuum that is filled either with reliable information about spiritual values or with destructive ideas," said Majit Junisbekov, spokesman of Nur-Mubarak Egyptian University of Islamic Culture in Almaty.
Youth must receive the correct information so that they understand Islam to be a peaceful religion with no place for coercion or cruelty, he said.
In response to online recruitment by extremist organisations, DUMK is implementing several projects, one of which enables is promoting accurate religious websites -- Muftyat.kz, Azan.kz, Mazhab.kz, Muslim.kz -- on social networks.
"We maintain pages on Facebook, Instagram, Telegram and Vkontakte," said Abdykalykov.
DUMK tailors its message for four different audiences.
The first is a general audience that includes viewers who are even slightly interested in Islam.
The second is regular mosque attendees.
"They are more informed, so we give them in-depth knowledge about how to recite prescribed prayers, how to fast properly, how to dress, what foods are haram, and which are halal," said Abdykalykov.
The third category consists of students of madrassas and of Nur-Mubarak University. For them, DUMK created comprehensive online lessons on fiqh (Islamic jurisprudence), aqidah (Islamic creed) and Arabic.
The fourth category is members of destructive movements. DUMK devotes considerable attention to their interests and to their problems.
"We have a special website, fatua.kz, which is intended only for questions and answers, and comments," he aid. "Judging by the questions on this site, the interests of the fourth category are centred around 'jihad.' They'll write that you need to go to Syria for holy war. We reply that what is happening in Syria is not 'jihad' but simply terrorism. We reason from the holy scriptures."
As many as 100 questions per day arrive at fatua.kz. Employees of the DUMK Department of Fatwas and Sharia answer them promptly.