BISHKEK -- A musical drama telling the story of Kazakhs who died fighting in Syria sold out on September 19 in Bishkek.
More than 400 students in grades 6-11 from various schools in the Kyrgyz capital attended "I Want to Go Home," performed by the Zhambyl Drama Theatre from Kazakhstan.
Tickets sold for 100 KGS ($1.40) each for the single Bishkek performance of the play aimed at preventing youth radicalisation.
An Almaty resident, Yevgeny Dubovik, directed the drama. Kazakh choreographers, composers and songwriters participated in the play, which tells the story of Amirkhan, a Kazakh born in 1987.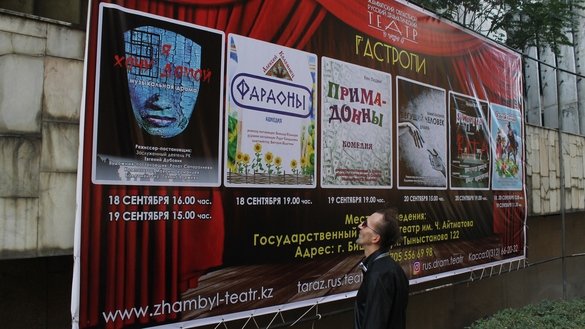 Looking for meaning in life and seduced by extremist content on the internet, he joins "Islamic State" (IS) and travels to Syria to fight.
As he fights, Amirkhan witnesses torture and executions, the sexual exploitation of women and the slave trade. He realises that the just state for Muslims that he had seen in online propaganda videos does not exist.
Amirkhan reaches a turning point when he meets another Kazakh fighting for a rival terrorist group. Their field commanders refuse to share the spoils of victory, forcing them to shoot at each other.
Desiring to return home, Amirkhan realises that he has only two options left: die for terrorism's false ideals or be executed for trying to escape.
Other parallel storylines also unfold in the drama, telling the stories of men and women from around the world who are deceived by extremists. They face deep disillusionment, the deaths of their children, the passing of women from one man to another, hunger, pain and suffering.
'Why did he go there?'
The schoolchildren could be overheard discussing the play after its conclusion. Many wondered, "Why did he go there?"
Tamiris Jaylabekova, a ninth-grade student at Gymnasium No. 70 in Bishkek, enjoyed the musical drama.
"A very interesting script. I really enjoyed watching it," she said. "I know about terrorism, about recruiting on the internet. It was helpful to remember this again."
Ivan Sivokhin, a 10th-grade student at Public School No. 60, attended the performance with his friends.
"I liked the play. I liked that it has a lot of music and that thoughts on such a difficult topic are expressed through songs," said Ivan.
"The plot ... is very relevant for modern times," said Baktygul Sheraliyeva, a teacher at Gymnasium No. 70.
"Children need to be told about this issue so they can avoid this threat," she said. "Their world-view changes after they watch the play. They will not make the mistakes made by the characters."
The students will take an hour of class to discuss the story's plot, she said, adding that they will write essays about the impressions that it made on them.
"This is very useful information for children," said Izdegul Manasbayeva, the mother of one of the schoolchildren
"Some believe that the plot is challenging for schoolchildren, but today's children understand everything," she said. "I hope that the play made the right impression on our children."