ALMATY -- Kazakhs have been demonstrating daily outside the Chinese consulate in Almaty for more than three months, demanding that Beijing free relatives and friends detained as part of China's crackdown on Muslims in Xinjiang.
Beijing has imprisoned more than one million Uighurs and other Turkic Muslims -- including ethnic Kazakhs -- in as many as 400 facilities that include "political education" camps, pretrial detention centres and prisons.
Since 2014, China has detained more than 1,000 imams and other religious figures "for their association with religious teaching and community leadership", according to a Uighur rights group.
Millions more live under a harsh system of surveillance and controls.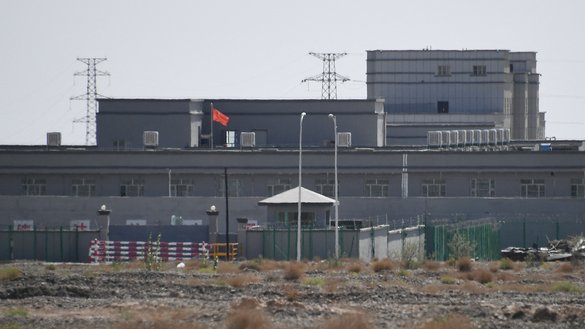 After first denying the existence of the detention centres in Xinjiang, Beijing later justified them as "re-education" camps designed to stamp out terrorism and improve employment opportunities.
Independent investigations and interviews with former prisoners, however, recount physical and mental torture, brainwashing, systematic rape and sexual abuse, and other horrors.
The Chinese regime has also forcibly sterilised large numbers of Muslim women and pressured them to abort pregnancies that exceeded birth quotas, independent researchers found.
Targeting activists
May 18 marked the 100th consecutive day of protests in Almaty, reported Radio Azattyq, Radio Free Europe/Radio Liberty (RFE/RL)'s Kazakh service.
Participants held posters with photographs of their relatives and the words "100 days" at a rally that day.
One of the protesters, Akikat Kalliola, told RFE/RL that Chinese authorities killed his father and detained his mother and two brothers.
He said that he would continue to protest until the Chinese release his family.
Kalliola is among many ethnic Kazakhs who fear for their relatives in China.
"It must be awful -- when you don't know what the situation is with your parents, brothers, sisters, whether they are alive, whether they are well, and you don't know what to do to help them," said Irina, a saleswoman at a grocery store near the Chinese consulate.
"Kazakhs' fears for their relatives are justified because the so-called 're-education' camps are essentially fascist concentration camps with cemented-over windows and an 8-metre-high fence with armed guards and smart cameras that know the face of every prisoner," said Serikjan Bilash, a US-based human rights activist and an outspoken critic of Beijing.
"Behind the walls of these camps, our compatriots are tortured," he said.
Earlier this year, Kaisha Akan and Murager Alimuly, two ethnic Kazakh activists who fled China, were separately assaulted January 21. Both survived.
The two activists were known for shedding light on China's violations of ethnic minorities' rights in Xinjiang.
"The Chinese authorities have long tentacles," said Bilash.
"There is no doubt that they suffered for revealing the truth about the Red Empire [China]'s repression of our compatriots [ethnic Kazakhs in China]," he said of Akan and Alimuly. "This violence is also an attempt to intimidate and silence other activists."
Beijing's intimidation
The Chinese consulate has largely ignored the growing number of protesters, having never sent out a diplomat to meet them. In some cases it has responded with threats.
Baibolat Kunbolat, 40, of Almaty last year regularly picketed alone outside the Chinese consulate to demand the release of his brother, Baymurat Nauryzbekuly, whom the Chinese authorities in 2018 sentenced to 10 years in prison for allegedly making a social media post that "incites ethnic hatred".
Kunbolat also travelled to the capital Nur-Sultan to hold a rally outside the Chinese embassy.
In 2011, Nauryzbekuly moved to Kazakhstan, where he received a residence permit. But two years later, he had to return to China to care for his sick parents.
Kunbolat said his brother is an innocent victim of Beijing's oppression of Muslim minorities in Xinjiang.
"A Chinese embassy employee threatened me -- with a text message -- that if I did not stop picketing and demanding my brother's release, then I would cause problems for my relative and his family in China," said Kunbolat, who has continued his protests.
China's 'genocide' in Xinjiang
Officials from United States, Britain and Germany on May 12 called on China to end its repression of the Uighur minority, speaking out at a video conference that infuriated Beijing.
"In Xinjiang, people are being tortured. Women are being forcibly sterilised," US Ambassador to the United Nations (UN) Linda Thomas-Greenfield said during the conference, which Human Rights Watch co-sponsored and which featured testimony from Uighurs.
"We will keep standing up and speaking out until China's government stops its crimes against humanity and the genocide of Uighurs and other minorities in Xinjiang," she said.
UK Ambassador Barbara Woodward called on China to allow the UN high commissioner for human rights (HCHR) "immediate, meaningful and unfettered access" to Xinjiang.
"There is evidence of mass arbitrary detention, enforced disappearances and incidences of torture," she said. "There are further reports of widespread forced labour and sterilisation."
"We appeal on China to respect the Universal Declaration of Human Rights and tear down the detention camps," German Ambassador Christoph Heusgen added.
"If you have nothing to hide, why don't you finally grant unimpeded access to the HCHR?" he asked of China.
"The current situation in Xinjiang is at its best in history," the Chinese delegation insisted in a statement.