The integration of Small Diameter Bombs (SDB) with the A-10 Thunderbolt II will bring increased lethality to the well-known fighter jet as well as extra standoff bombing capabilities in a fifth-generation environment.
The A-10 is a specialised ground-attack aircraft designed for close air support missions, capable of carrying a variety of weapons, including bombs, missiles and rockets.
The SDB is a 250-pound (113.3kg)-class precision-guided bomb that can glide dozens of kilometres to strike its target.
The A-10 fleet is expected to receive SDB upgrades this year.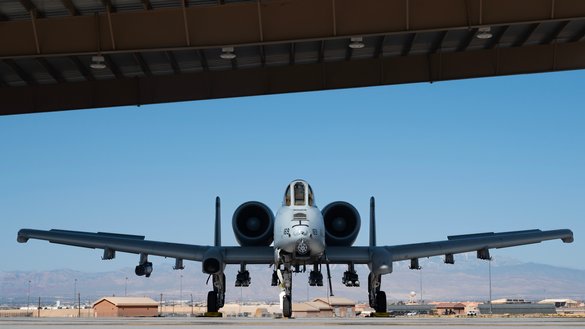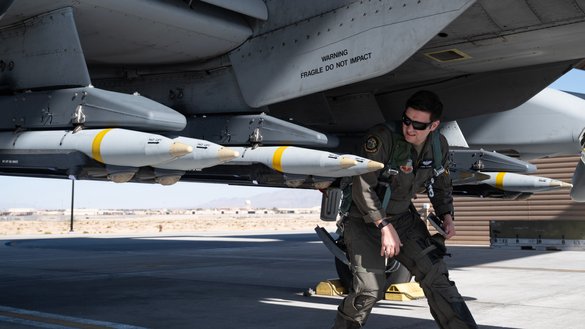 The US Air Force on April 19-20 conducted tests of an updated version of Operation Flight Programme 11 -- which controls the A10's avionics and enables the integration of weapons. The new version allows four SDB bomb rack units to be utilised on the A-10 instead of two.
The Thurderbolt has eight under-wing and three under-fuselage pylon stations.
Each SDB bomb rack unit can carry four bombs.
Photos released by the US Air Force showed the A-10 equipped with different SDB configurations, including one with 16 SDBs and one with eight SDBs and a centerline fuel tank.
This was the first time a single A-10 has carried and employed four bomb racks of SDB, according to the Air Force.
The Drive reported last August that the SDB had undergone initial carriage tests on the A-10 with live-fire tests set to follow.
Standoff capability
Air Force officials have said they expect to mount between four and six SDB bomb rack units on the A-10, for a total of 16 to 24 SDBs.
That means a flight of four A-10s could potentially carry 96 SDBs, which is within the range of the number potentially carried by a single B-1B Lancer.
The smallness of the SDB "allows increased aircraft loadout to achieve multiple kills per sortie and inherently reduces the probability of collateral damage", according to the Air Force.
Relatively light for an airdropped bomb, SDBs can still penetrate hardened structures, including more than three feet (91.4cm) of steel reinforced concrete.
The standard SDB utilises a combination inertial navigation system-Global Positioning System (GPS) guidance system to reach intended targets, while SDB variants add laser guidance.
For pilots of the A-10, the SDB provides superior ability to make precision standoff strikes compared to Joint Direct Attack Munitions (JDAMs) and AGM-65 Mavericks (air-to-ground missiles) because it can glide for dozens of miles to its target.
The SDB is capable of standoff ranges of more than 40 nautical miles (74km), and can be targeted and released against single or multiple targets.
JDAMs and Mavericks have ranges of roughly 28km and 22km, respectively.
Fifth generation integration
The SDB's capabilities also significantly improve the A-10's integration with and support for fifth-generation aircraft such as the F-22 Raptor and the F-35 Lightning II.
The F-35, for example, could potentially use its data links, stealth capabilities, advanced sensors and avionics systems to help A-10s accurately deliver SDBs to their targets.
For their part, A-10s can in general carry more munitions than do fifth-generation aircraft that maximise internal carriage and stealth.
"The big effort we are pushing for in the A-10 today is quick and simple modernisation efforts to help the Air Force better posture to fight tomorrow," Maj. Kyle Adkison, A-10 division commander at the 422nd Test and Evaluation Squadron, told the Drive in August.
"As long as the A-10 is in service, we want to develop it to help the Air Force successfully fight however we can. Today, that means supporting fifth-gen fighters."
"It has 10 weapons stations, a very long loiter time, and a significant and robust austere capability to operate from highways and dirt strips, plus it doesn't need lots of support infrastructure -- so the overhead for us to affect the battlespace is low," Adkison said.
"Essentially, we can carry a lot of things that will help others achieve their desired effects."