In a further sign of fratricide between the Kremlin and the Wagner Group, the Russian mercenaries announced their capture of a commander from the regular army, accusing his unit of trying to attack its fighters in Ukraine.
Wagner Group chief Yevgeny Prigozhin -- a onetime crony of Russian President Vladimir Putin -- has in recent weeks ramped up his rhetoric against the Russian elite and Defence Ministry.
Formerly, the Wagner Group and the Russian army were allies in the invasion of Ukraine, which the Kremlin launched in February 2022.
Prigozhin has turned on the establishment, decrying the state of the Russian army and accusing Moscow's top generals of causing excess deaths during the Kremlin's offensive in Ukraine.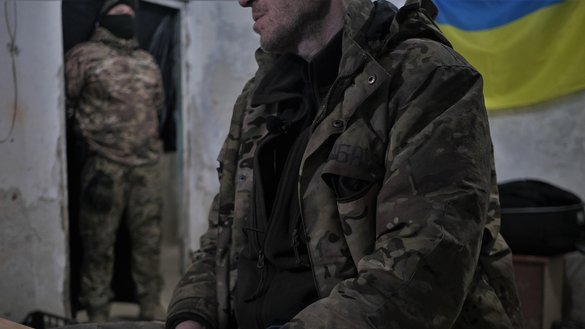 But this was the first time the mercenary group said it had grabbed a soldier -- who identified himself on video as Lt. Col. Roman Venevitin, the commander of Russia's 72nd Brigade -- from the regular army.
Late Sunday (June 4), Prigozhin posted a Wagner Group statement dated May 17 that accused Russian soldiers of "mining roads behind Wagner units" in Moscow-occupied eastern Ukraine.
The report said Wagner Group fighters were carrying out mine-clearing operations when they came under "open small arms fire coming from Defence Ministry positions".
Prigozhin then posted a video on Telegram showing a prisoner who identified himself as Venevitin. He sported a bruise on his face and appeared to have been beaten up by his captors.
In the video the lieutenant colonel tells an interrogator that, while drunk, he had fired on a Wagner Group vehicle and had his troops disarm a Wagner unit.
He said he did so because of "personal animosity" for the mercenary group.
Rising internal tensions
Tensions have been brewing for some weeks between the Wagner Group and the regular Russian army, which the mercenary group has accused of betrayal.
The group spearheaded Moscow's advance on the east Ukrainian city of Bakhmut and claimed to have captured the hotspot in late May -- but not before engaging in a public spat with the Kremlin.
It has now mostly pulled out of Bakhmut and transferred control to the Russian army.
In a written statement posted on Telegram in early May, Prigozhin said the group would be forced to hand over its positions to Russian forces on May 10 and withdraw its own fighters to a rear camp "to lick our wounds".
"I will pull out Wagner units from Bakhmut because in the absence of ammunition they are doomed to a senseless death," he said.
Prigozhin also denounced the Defence Ministry for what he described as betrayals of the group's war effort in Bakhmut, accusing the Russian army of repeatedly and deliberately failing to supply it with enough artillery shells.
Instead of sending the promised "tens of thousands" of troops to reinforce the Wagner Group and cover its flanks, the army sent mere dozens, he added.
In a scathing May 4 video, Prigozhin also blamed Russian army chiefs for "tens of thousands" killed and wounded Russian fighters in Ukraine.
He said the massive losses "are on the conscience of those who did not give us ammunition, and that is Defence Minister (Sergei) Shoigu and Chief of General Staff (Valery) Gerasimov".
"For the tens of thousands killed and wounded, they will bear responsibility in front of their mothers and children. I will achieve that," he said.
In remarks released at the same time as Putin's May 9 Victory Day speech, Prigozhin accused Russian forces of abandoning their positions near Bakhmut.
"They all fled, exposing the front," he said, claiming soldiers were fleeing because of the "stupidity" of Russian army commanders, who he said were giving "criminal orders".
"Soldiers should not die because of the absolute stupidity of their leadership."
Conflicts among 'strongmen'
Prigozhin on May 24 warned that Russia could face a revolution and lose the conflict in Ukraine unless the nation's elite becomes serious about fighting the war, Reuters reported.
"What do we have to do not to [expletive] lose Russia? We need to impose martial law," he said in an interview posted on his Telegram channel.
"Shoigu! Gerasimov! Where is my [expletive] ammunition? You sit in your [expletive] expensive clubs," he yelled.
"You think you are the masters of life and you have the right to decide on their lives," Prigozhin said, pointing at a pile of corpses of his Wagner mercenaries.
"Conflicts among the 'strongmen' are growing," Ihor Tyshkevich, an analyst with the Ukrainian Institute of the Future, told Caravanserai, referring to military, law enforcement and intelligence leaders.
In addition to competition between the army and the Wagner Group, rivalries are festering among the various intelligence agencies and the National Guard (Rosgvardiya), according to Tyshkevich.
Prigozhin is trying to make himself the unrivalled boss of bosses of the various mercenary forces, he added.