DUSHANBE -- US Central Command (CENTCOM) July 19 (Wednesday) in Dushanbe familiarised Tajik journalists with progress on the multi-national Exercise Regional Co-operation 2017, which is taking place July 10-23 in Tajikistan.
Journalists had the chance to watch the command-post (theoretical) portion of the exercise, as troops conducted it in the Officers' House in Dushanbe Wednesday.
Forces from Tajikistan, the US, Kyrgyzstan, Mongolia and Pakistan -- plus two observers from Kazakhstan -- have been undergoing the practical part of the training in Fakhrabad.
Honing skills
The annual exercise, which Tajikistan is hosting for the fourth time, is a hypothetical peacekeeping response to a UN mandate. Participants learn to fight terrorism and protect the border, among other skills.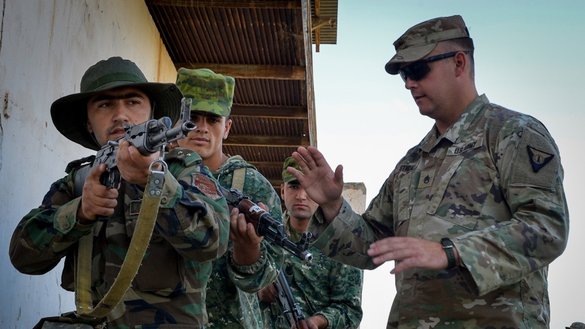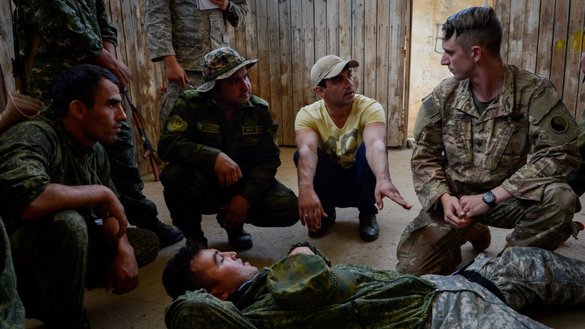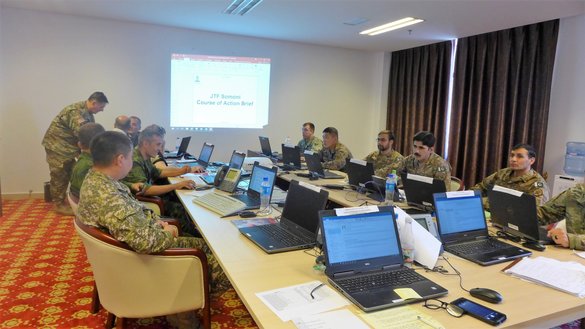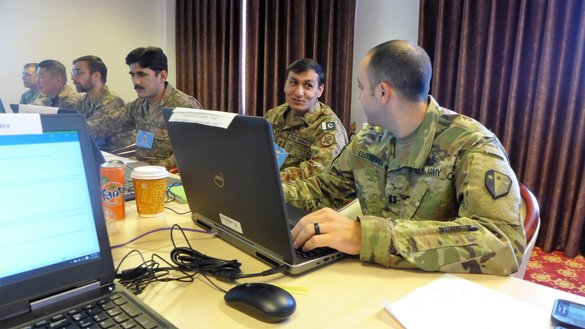 The first Exercise Regional Co-operation took place in 2001.
The on-going exercise consists of four phases, US Army Maj. Robert McCracken said during the July 19 Dushanbe presentation, adding that command-post exercise participants are responding to hypothetical scenarios by analysing the situation, assessing resources, evaluating forces available and then making decisions jointly.
Practical and theoretical exercises alike are very important for all participants, strengthen co-operation and facilitate the exchange of experiences and skills, Nuriddin Sattorov, chief of staff for Tajik Defence Ministry mobile troops, told Caravanserai.
"We ... will all study the situation deeply," said Sattorov. "I hope our armed forces will become much stronger ... and better prepared to repulse attacks from within and outside the country. Fighting terrorism is our main goal."
Exercise Regional Co-operation is an important event, US Ambassador to Tajikistan Elisabeth Millard remarked in her speech during the Dushanbe news conference.
The exchange of ideas and experiences during the exercise helps build trust, she said, adding that the US seeks to build up security and stability in Central Asia and to fight terrorism, drug trafficking and proliferation of weapons of mass destruction.
The US hopes to build a bilateral and multilateral dialogue on security issues with Central Asian countries, she said.
Exercise participants will come away from the training better prepared for future missions, predicted CENTCOM Deputy Director for Training and Exercises Guy Zero at the news conference.
CENTCOM is working on forming ties with other militaries that might be needed if a crisis arises someday, he added.
Widespread praise for training
Participants from various countries had praise for the experience.
Sharaf Egamzod, a Tajik military officer who has participated in Exercise Regional Co-operation several times, rated the exercises very highly.
"This year they were even better [than before]," Egamzod told Caravanserai. "We're gaining invaluable experience and making wonderful friends from all countries."
Yerlan Yuldashev, a Kyrgyz military officer, told Caravanserai that he was attending Exercise Regional Co-operation for the third time.
"These are entirely accessible ... exercises that we could make use of in our countries," said Yuldashev.
The exercises provide good experience because they are multi-dimensional, said Pakistani Col. Amir Riaz.
Such exercises help all the participants understand each other better, Riaz told Caravanserai.