TASHKENT -- Warming relations between Uzbekistan and Afghanistan mark a historic shift from merely making agreements to taking action on them, analysts say.
Uzbekistani President Shavkat Mirziyoyev and Afghan President Ashraf Ghani met in Tashkent during Ghani's official visit to Uzbekistan December 4-6.
The two leaders presided over the signing of 20 co-operation agreements and 40 export contracts, on December 5, and agreed to co-operate "in all spheres".
The two countries will jointly fight terrorism, extremism and drug trafficking as part of an effort to strengthen security in Central Asia, according to a statement from Mirziyoyev's press office.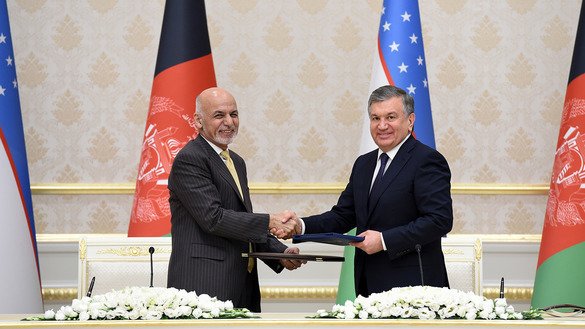 "Peace in neighbouring Afghanistan will enable Central Asia to realise its goal of achieving sustainable and steady development," Mirziyoyev said.
"Uzbekistan's initiatives and practical actions help strengthen peace and stability in the region," Ghani said, according to Uzbekistan's Foreign Ministry. "We are glad for the beginning of this new stage of co-operation with Uzbekistan. We hope that our relations will strengthen every day."
Developing infrastructure, trade
The export contracts signed by the two countries' officials are valued at more than $500 million (4 trillion UZS).
It is critical to increase annual bilateral trade up to $1 billion (8 trillion UZS) by 2019, according to a joint statement signed by Ghani and Mirziyoyev after their meeting.
In 2016, trade between the two countries amounted to $520 million (4.2 trillion UZS).
"The private sector is our principal partner, which can undertake constructive steps to help the two countries achieve mutual prosperity," Ghani said during a dinner in Tashkent December 5 with Uzbekistani Prime Minister Abdulla Aripov and representatives of Uzbekistan's various business communities.
"Uzbekistan sees a close neighbour and friendly country in Afghanistan, and is making every effort to establish peace and tranquility in Afghanistan and to deepen our co-operation in trade, economics, transport, culture and other fields," Mirziyoyev said.
"The presidents noted the importance of bilateral co-operation in the field of transport corridors, which will be able to provide the most direct and efficient access to foreign markets," said the joint statement.
Afghanistan and Uzbekistan have agreed to jointly implement several projects, including the extension of the existing Hairatan-Mazar-e-Sharif railway and building 500kW power lines from Surkhandarya (Surxandaryo) Province in Uzbekistan to Pul-i-Khumri, capital of Baghlan Province, Afghanistan.
The projects also cover the reconstruction of various infrastructure facilities such as the Kabul Ring Road, the Qaysar-Laman route, Salang Tunnel and others.
Air travel set to grow
Air links between the countries are also being developed.
Afghan carrier KamAir made its first flight from Kabul to Tashkent on November 29. Flights will run twice a week on Wednesdays and Sundays. KamAir also will use Tashkent as a hub for flights to European countries.
Mirziyoyev has promised to increase the number of nonstop flights between Kabul and Tashkent up to four times per week. He told Ghani that it was the "right time" for such a move, according to a tweet from Ghani's office.
According to KamAir's schedule published on the company's official website, flights from Tashkent to other cities in Afghanistan, such as Herat and Mazar-e-Sharif, will also begin in this month.
KamAir pilots are training at the Uzbekistan Airways flight school in Tashkent, said KamAir Executive Director Ravil Aksyanov according to Anhor.uz. Maintenance on KamAir aircraft will take place at the Uzbekistan Airways repair facility in Tashkent, he added.
Those who travel often between Tashkent and Kabul welcomed the news.
"I used to have to fly to Kabul through Almaty, and that was a very long and expensive flight," Uzbekistani businessman Fattakh Ubaydullayev told Caravanserai. "You could reach Mazar-e-Sharif only by going through Uzbekistan's southern border."
"New flights will open up new business opportunities," he said.
Ghani's visit 'historic'
"Judging from the breakthrough in the two countries' relations and the massive scope of the planned projects, it's fair to call Ashraf Ghani's visit historic," Tashkent-based political scientist Valerii Khan told Caravanserai.
"Former Afghan President Hamid Karzai made only one visit to Uzbekistan, in 2002, which was then followed by a 14-year break," he said. "In 2016, Ashraf Ghani met in Tashkent with then-Uzbekistani President Islam Karimov, but at that time no significant results were achieved."
"Now, people are observing how the two countries have truly transitioned from words to deeds," said Khan.