TASHKENT -- Uzbekistan and Afghanistan took another step towards enhanced co-operation with the first meeting of an Uzbekistani-Afghan joint commission on security issues, which took place in Tashkent Saturday (February 10).
Delegates from both sides discussed furthering co-operation between the law enforcement and security agencies of Uzbekistan and Afghanistan to fight extremism, drug trafficking, arms smuggling and other forms of transnational organised crime.
"The results reached [at] the first session of the Uzbekistani-Afghan joint commission on security issues will help to strengthen relations between the two countries, to ensure security and to develop strategic projects," Afghan National Security Adviser Mohammad Hanif Atmar said, according to the Uzbekistan National News Agency (UzA).
Strengthening bilateral, multilateral relations
Joint efforts are important to prevent customs offenses and ensure the security of national borders, the delegates said during the meeting.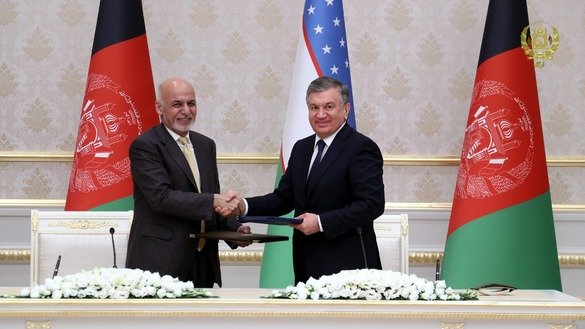 Commission members agreed it is necessary to strengthen regional security and support the peace building process in Afghanistan in order to implement joint cultural, economic, energy and infrastructure projects -- including the construction of the Mazar-e-Sharif-Herat railway and the Surkhon-to-Pul-i-Khumri power transmission line.
Noting the deepening relationship between the two countries, Uzbekistani and Afghan officials expressed readiness to expand bilateral and multilateral co-operation, paying special attention to the timely implementation of agreements -- in political, trade, economic, cultural and humanitarian spheres -- signed during Afghan President Mohammad Ashraf Ghani's visit to Uzbekistan last December.
The meeting between Ghani and Uzbekistani President Shavkat Mirziyoyev in December helped enhance co-operation between the two countries, Atmar said at the session.
While exchanging views over the implementation of agreements reached during the two presidents' meeting in Tashkent, commission members stressed the importance of bilateral and multilateral security co-operation, said Akhmed Mansurov, director of the country's National Information-Analytical Centre on Drug Control, according to UzA.
Uzbekistan aims for larger diplomatic role
Close co-operation between Afghanistan and Uzbekistan in all spheres will help provide peace and security in Afghanistan and ensure long-term stability in the region, according to members of the commission and experts.
"The work of this commission is already an obvious achievement of Uzbekistan's new foreign policy," Farrukh Nazimov, a retired Uzbekistani diplomat from Tashkent, told Caravanserai. "Uzbekistan is seeking the dominant role in Central Asia, using so-called 'soft diplomacy', [namely] developing humanitarian and infrastructure projects."
"If the upcoming conference on [peace in] Afghanistan, scheduled in March in Tashkent, shows serious progress ... Mirziyoyev will go down in history as someone who was able to solve a decades-long conflict," Tashkent-based political analyst Valerii Khan told Caravanserai.
"Uzbekistan, as an intermediary, is interesting and beneficial to all sides," he said. "This is a neutral, friendly state, whose foreign policy image was never tainted."
[Maksim Yeniseyev from Tashkent contributed to this report.]