ALMATY -- The US Embassy in Kazakhstan hosted its second annual "Go Viral" festival in Almaty June 15-17, aimed at empowering journalists, entrepreneurs, artists and other innovators to leverage social media and technology to connect with the world.
Innovators from 14 countries presented their products during the three-day festival, and more than 1,500 participants attended lectures, master classes and business meetings.
Three of the best projects -- a cell phone app for creating robots, a site for selling new and used books, and a website with information about universities in Kazakhstan -- were awarded $1,000 (334,000 KZT) each by the embassy and other sponsors.
Introducing new ideas
John Chikhun, a businessman from Kyrgyzstan and one of the festival speakers, shared his own experience with participants.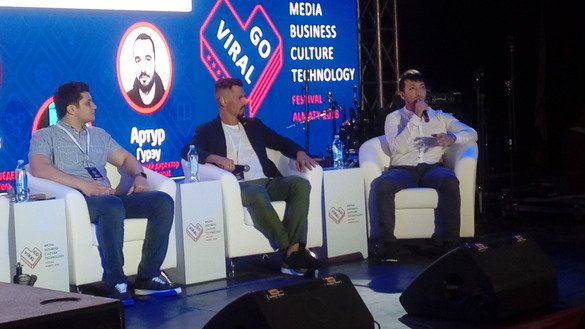 "An entrepreneur is someone who can combine his knowledge in business and artistic abilities, and the result provides innovation," he said.
Irakli Qashibadze, CEO of the Georgia-based Future Laboratory, presented an educational project for children that provides a new approach to pedagogy for Commonwealth of Independent State (CIS) countries, which mostly still use old Soviet-era models of education.
Education in the CIS countries does not prepare children for real life, he told Caravanserai.
Project-oriented training is already being introduced in the United States and Finland, and children's performance is growing, he said. Educators are still hesitant to introduce it to CIS countries, but the system has proven itself well in private schools in Georgia, he added.
Enhancing co-operation
Events such as the "Go Viral" festival are essential for the development of Central Asia, said visitor Nigora Ariftjanova from Uzbekistan.
"Our countries have to co-operate with each other because together we can develop faster," she told Caravanserai. "I did not expect to see so much interesting stuff at the festival."
Shakhnoza Khamdamova, CEO of the Tayron media holding company in Tajikistan, told Caravanserai she was surprised by two results of the festival: she found new partners for her ventures, and she and the other participants came up with new business ideas.