BISHKEK -- Kyrgyzstan's State Committee for Industry, Energy and Subsoil Use (SCIESU), with financial support from the Asian Development Bank (ADB), has launched a pilot project to provide the country's outlying and mountainous districts with solar electricity.
Under the project, the government will deliver 300W capacity solar energy equipment and appliances to residents of the hinterlands free of cost. These include solar panels, batteries, TVs, refrigerators, LED lamps and lighting fixtures, the SCIESU announced July 16.
Authorities will install solar panels on the roofs of buildings that, because of their distance from power transmission lines, previously had neither electricity nor other comforts of civilisation.
The areas covered by the pilot project receive regular sunlight, which will enable environmentally friendly electricity.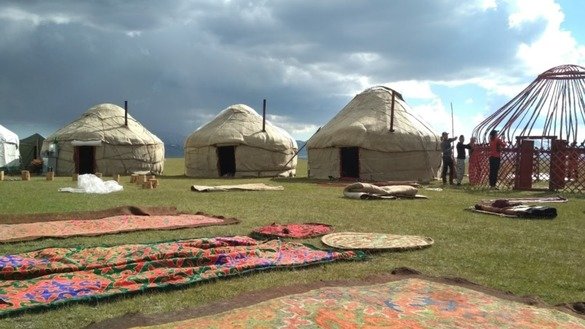 Residents of Ken-Suu village in Jumgal District, Naryn Province, were the first to receive the solar panels and home appliances. The area is situated more than 2,000 meters above sea level and is known for its cold climate.
The project has already installed 15 sets of equipment in the village.
If the pilot project in Naryn Province is successful, SCIESU and the ADB also will start implementing self-sufficient power supply systems in other remote areas of the country that lack electricity, according to the committee's website.
Renewable energy sources
About three-quarters of Kyrgyzstan is mountainous. As a result, access to electricity can often be limited.
The nation's power generation system, inherited from the Soviet era, has become obsolete and needs to be replaced with new, environmentally friendly technologies, including renewable energy sources.
Electricity consumption grows each year by about 5%, with the general public's needs accounting for most of that growth, said Nurzat Abdyrasulova, director of the Bishkek-based Unison Group environmental NGO.
"The country's population is growing, and new households keep appearing, but facilities for new electricity generation capacity are not being built," she told Caravanserai.
Although the industrial sector previously consumed the lion's share of electricity in Soviet times, nowadays the general public uses more than 60% of it, said Abdyrasulova.
"The shortage of electricity generation facilities in the country makes itself felt -- when there is not enough capacity, [utilities] turn off the power in remote villages first," she said, adding that renewable sources of energy could be a solution to the problem.
Developing interest
However, the renewable energy industry is, for now, in its infancy. Renewable energy sources in Kyrgyzstan do not even account for 1% of the country's electricity, according to Abdyrasulova.
Kyrgyz residents appear to be in no rush to establish renewable energy sources in their homes, Baktygul Stakeyeva, an engineer and environmentalist from Bishkek, told Caravanserai.
"The optimal solution for ordinary users -- solar panels -- is expensive, and there is just too little accessible information about them," she said.
Given present-day costs in Kyrgyzstan, it takes "dozens of years" for solar panels to pay off, she said.
Instead, residents are pinning their hopes on the government and on international development banks like the ADB.