ALMATY -- Through the power of the box office, Kazakhstan is once again demonstrating its rejection of the status of the Crimean peninsula, which Russia illegally annexed from Ukraine in 2014.
Kazakhstan's cinemas are refusing to screen the Russian comedy "The Crimean Bridge. Made with Love!"
The film centres on the Crimean Bridge, a pair of parallel bridges spanning the Kerch Strait. The bridge connects Russia and Crimea and plays a role in youthful romance in the film.
The film was released in Russia on November 1. Its producers were planning to distribute it in Kazakhstan this month.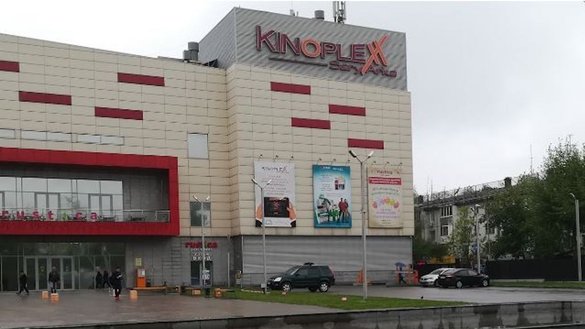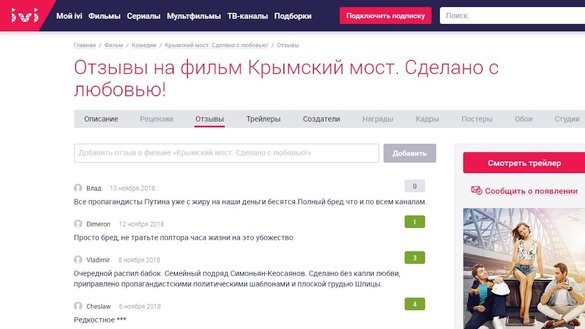 However, Kazakh film distributors reported low demand from their country's cinemas, which meant only one thing: no interest from local movie-goers.
Reviewers blast film's propaganda content
Some movie-goers and critics are calling the film "propaganda".
On Russian film sites KinoPoisk and ivi.ru, the film has a low rating. The comments posted by viewers who watched the film in cinemas are blistering.
"All of Putin's propagandists are already going wild rolling around in our money," wrote Vlad. "It's just drivel. Don't waste an hour and a half of your life on this abomination."
The film was directed by Tigran Keosayan of Russia, a pro-Kremlin TV show host on NTV. His wife, Margarita Simonyan, editor-in-chief of the Russia Today TV channel, wrote the screenplay.
Based on the reviews, even if "The Crimean Bridge" had seen the light of day in Almaty, it would have flopped with the local audience.
"Why do we need this brainwashing from Russia? And we have to pay for it? No thank you," Arnur Musin, a university student from Almaty, told Caravanserai. "I'd rather go see a good Kazakh comedy or a high-quality Hollywood thriller."
Kazakhstan takes a firm stance
Kazakhstan's refusal to distribute "The Crimean Bridge. Made with Love!" was based on two factors, said Astana-based international relations scholar Ruslan Nazarov.
"First, the movie isn't interesting on its own -- it wasn't well received even in Russia, which you can see in the ratings and the dismal attendance numbers. Consequently, it would not have made a profit here," he told Caravanserai.
"Second, screening such a film in Kazakhstan could be interpreted as tacit support for Moscow's policy in Ukraine, but that [perception of support] isn't accurate," he said.
Kazakhstan might be an ally of Russia, but it takes many positions that disagree with the Kremlin's policies, he said.
Astana has never recognised Crimea as part of Russia, just as it never diplomatically recognised the breakaway, Russian-backed Georgian regions of Abkhazia and South Ossetia, he said.
During a UN Security Council session in April, Russia attempted to block all measures aimed at identifying the culprits of a chemical attack in Syria, making clear the Kremlin's complicity in ongoing war crimes committed by the Syrian regime of Bashar al-Assad.
Kazakhstan did not support the Russian position and instead supported a US-backed Security Council motion that would have re-established the Organisation for Prevention of Chemical Weapons-UN Joint Investigative Mechanism that expired last November to probe chemical strikes in Syria and to identify culprits.