MOSCOW -- All eyes are trained on Moscow after the United States warned that it would withdraw from a major Cold War treaty limiting mid-range nuclear arms if Russia within 60 days does not dismantle its missiles in breach of the treaty.
Washington will no longer be bound by the 1987 Intermediate-Range Nuclear Forces (INF) Treaty unless Moscow withdraws a new system that has threatened to trigger an arms race, said US Secretary of State Mike Pompeo.
'Russia in material breach of treaty'
"The United States today declares Russia in material breach of the treaty, and we will suspend our obligations as a remedy in 60 days unless Russia returns to full and verifiable compliance," Pompeo said Tuesday (December 4) after talks with fellow NATO foreign ministers.
"Russia's actions gravely undermine American national security and that of our allies and partners," he said. "It makes no sense for the United States to remain in a treaty that constrains our ability to respond to Russia's violations."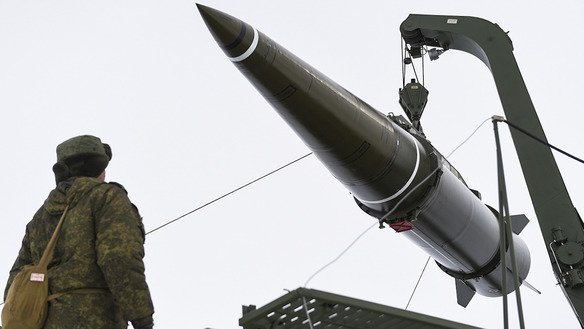 NATO said it was now "up to Russia" to save the deal, seen by many as an important part of the global arms control architecture.
The United States and NATO allies said Russia's 9M729 system, also known by the designation SSC-8, violates the INF Treaty, which banned ground-launched missiles with a range of 500km to 5,500km.
The nuclear-capable Russian cruise missiles are mobile and hard to detect and can hit cities in Europe with little or no warning, according to NATO, dramatically changing the security calculus on the continent.
NATO Secretary General Jens Stoltenberg said that although Russia has a last chance to comply, "we must also start to prepare for a world without the treaty".
The INF Treaty, signed by former US president Ronald Reagan and the last Soviet leader, Mikhail Gorbachev, was the first to abolish a whole category of weapons.
"This was really arms control at its best, and therefore, it's a really big setback if this treaty now breaks totally down," Stoltenberg said.
"I regret that we will now most likely see the end of the INF Treaty, but at the same time, we don't have any other alternative than to react in the way we do."
'Up to Russia' to preserve treaty
If Russia does not comply within the 60-day deadline, the United States will begin the six-month process of formally withdrawing from the INF Treaty.
Until then, Pompeo said, the United States will not "test or produce or deploy any systems" that would breach the treaty.
However, he said, there is no reason why the United States "should continue to cede this crucial military advantage" to rival powers.
Over the past five years, Washington has raised its concerns over the SSC-8 at least 30 times with Russia "to the highest levels of leadership", only to hear denials, obfuscation and spurious counter-claims, said Pompeo.
The US State Department said in a statement Tuesday that it had provided Moscow with "more than enough information for Russia to engage substantively on the issue".
The information included details on the missile's test history and the names of companies involved in developing and producing the missile and its launcher, the State Department said.
The United States won strong backing for its position from the rest of the NATO allies, who said in a joint statement that it was "now up to Russia to preserve the INF Treaty".
"Allies have emphasised that the situation whereby the United States and other parties fully abide by the Treaty and Russia does not, is not sustainable," the statement said.
French Foreign Minister Jean-Yves Le Drian said it was "essential to act in a firm and united way", warning Moscow it would bear the responsibility if the treaty collapsed.
"The INF has guaranteed peace and security in European territory for 30 years now," EU diplomatic chief Federica Mogherini said Wednesday (December 5) as she arrived for talks with NATO foreign ministers.
"It has to be fully implemented, so I hope that the time that is there to work on preserving the treaty and achieving its full implementation can be used wisely from all sides, and we will definitely try to make our part to make sure this happens," she said.
Moscow repeats denials, shifts blame
Despite the international community's warnings and clear evidence of Moscow's non-compliance with the INF, Russia has continued to shirk its responsibility.
"Groundless accusations are again being repeated," Russian Foreign Ministry spokesperson Maria Zakharova said Wednesday.
"No proof has been produced to support this American position," she said, despite clear evidence provided by the Netherlands on November 27.
Kremlin spokesperson Dmitry Peskov, meanwhile, attempted to shift blame and said facts had been distorted "in order to camouflage the true goal of the US withdrawing from the treaty".
Russian President Vladimir Putin also shifted blame, saying the US plan to withdraw from the INF Treaty is "ill-considered" and warned that Moscow would follow suit if Washington pulls out, Radio Free Europe/Radio Liberty reported.
"What will be the response from our side? Very simple: We will also do this," he said.
Putin has made no secret of his facetious approach towards nuclear security.
Putin joked on October 18 that in the event of a nuclear exchange, "We, as victims of aggression, as martyrs, will go to heaven. [The aggressors] will simply die because they won't even have time to repent."