ASHGABAT -- Turkmen authorities are improving their counter-terrorism efforts as they eye threats from the remnants of "Islamic State" (IS).
The Organisation for Security and Co-operation in Europe (OSCE) held a seminar focusing on strengthening lawful criminal justice responses to terrorism on July 24-25 for 30 Turkmen officials.
"The seminar focused on good practices... [and] effective terrorism prevention and prosecution measures, while emphasising respect for human rights and other applicable international law," the OSCE said in a statement on its website.
The seminar taught participants that the fight against terrorism is specific, painstaking and delicate work that requires a comprehensive approach.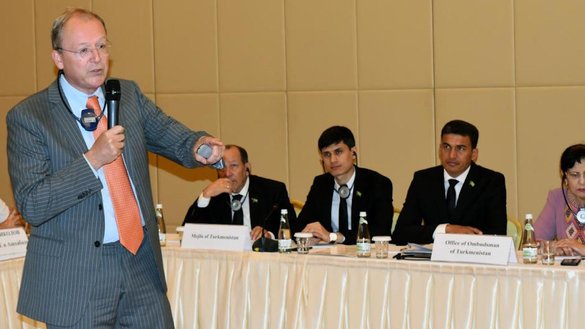 "In the fight [against terrorism], there must not be ... mistakes or distortions; otherwise, like a hydra, new heads will grow," said Ykhlas, an Ashgabat-based lawyer who attended the seminar and declined to give his last name.
"Everything here is so delicate and fragile that a mistake by the investigator, judge or prosecutor regarding someone suspected of involvement in terrorism may anger his family, relatives, friends and neighbours against the government... provoking them [to take] radical actions," the lawyer said.
Participants also emphasised the importance of eliminating the preconditions and reasons that prompt citizens to take the dangerous path of radicalism.
"Any crime, including terrorism, has its own social roots," said one participant who asked to remain anonymous.
"If citizens are satisfied with their lives and are provided with work and prosperity, then they themselves will rebuff those who try to lead them astray," he said.
External and internal threats
This is the third counter-terrorism training for Turkmen civil servants since the beginning of the year, said a Foreign Ministry official who attended the seminar.
"In total, about 100 employees of law enforcement agencies, qaziyats [courts], the legal profession and media have participated. They gained knowledge and skills to combat the most serious challenge of the 21st century," said the Turkmen official, who also asked to remain anonymous.
The seminars have proven to be useful for employees of the National Security and Interior ministries, as well as of the migration, tax and border agencies of the country, according to the official.
Turkmenistan's leadership is particularly alarmed by probable threats expected from IS militants who have found refuge in the northern provinces of Afghanistan after their defeat in the Middle East, according to the Foreign Ministry official.
"A concentration of the remnants of IS forces beaten in the Middle East has been observed in certain districts of Faryab, Herat, and Jawzjan provinces, which share a border with Turkmenistan," the diplomat said, quoting ethnic Turkmens in Afghanistan.
"They [the IS militants]... pose a real threat to Turkmenistan and all of Central Asia," he added.
The IS members include citizens of Turkmenistan who fled from Iraq and Syria and now are hatching plans to return to their homeland, he said.
"But there's no way we can allow them to carry out their plans," he added.
"In our country there has not yet been a single event that could be considered a terrorist attack," said Vepa O., an Interior Ministry employee who participated in one of the training seminars. He declined to give his full name.
"But the situation may change, and we must be prepared for this," he said.
The seminars enabled him to understand the mechanisms for co-ordinating the actions of various government agencies in the fight against terrorism and to study new ways of identifying potential threats, he said.
"Now our joint work with colleagues from the Ministry of National Security and other departments will be more efficient," he added.
It is important to eliminate external influences from the minds and consciousness of Muslims in Turkmenistan, said Vepa, whose work involves identifying citizens with radical beliefs.
"The overwhelming majority of Turkmens adhere to ... traditional Islam. The ideals of radicalism are alien to them," he said.
"But people are different, and we cannot rule out that among them may be someone who is tempted by money or believes delusional ideas or promises of going to heaven," Vepa said. "We identify those who are deluded and mistaken, as well as those who incite others to extreme measures."
The OSCE seminars add to the means and methods that Turkmen law enforcement uses daily, he said.