TASHKENT -- The European Union (EU) is set to finance education for Afghan women at universities in Uzbekistan and Kazakhstan.
The EU on July 22 allocated a grant of €2 million (20.7 billion UZS) for a project to be implemented by the United Nations Development Programme (UNDP).
"I believe the Afghan people need to feel and see that the international community unites and supports the reconciliation process in the country," said EU High Representative Federica Mogherini in an EU statement.
The EU has decided "to work very closely with the Central Asian countries" in projects aimed at education and employment for Afghan women, she said.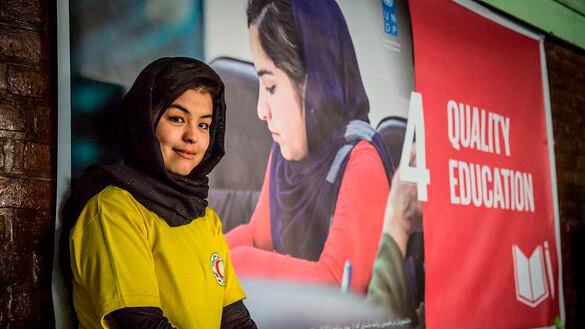 Under the project, 50 undergraduate and graduate students will enrol at universities in Uzbekistan and Kazakhstan in agriculture, applied statistics and mining by 2025. They will also be able to learn entrepreneurship at special summer schools.
The EU expects this project to help employ Afghan women and create opportunities for their businesses and communities to grow.
In 2018, only 11% of Afghan women had a complete secondary education, and only 19.5% were employed, according to the statement.
"We cannot build the future we want and achieve the Sustainable Development Goals (SDGs) without the full participation of women," said Yakup Beris, UNDP resident representative in Kazakhstan.
The EU and Uzbekistan discussed the training of Afghans at Uzbek universities during a meeting between Mogherini and Uzbek Foreign Minister Abdulaziz Kamilov in Brussels last November.
"The European side supported Uzbekistan's efforts to promote peace and stability in Afghanistan, including concrete steps to form a global and regional consensus on the peace process and an initiative on the implementation of trans-Afghan transport and trade routes and development of a educational programme for Afghan women," Kamilov said in a communiqué about the results of the meeting.
"Uzbekistan has strong technical universities, especially those related to specialties related to minerals and infrastructure construction," said Tashkent-based political scientist Umid Asatullayev.
"These 50 girls will have the opportunity to study in a friendly country with a predominantly Muslim population. I'm sure they will feel at home here," he said.
Uzbek education centre
Uzbekistan already has extensive experience in teaching Afghan students.
Last year, 71,300 new students began their studies at universities in Uzbekistan.
Since January 2018, the Termez Centre for Education in Afghanistan has been operating in Termez, near the border with Afghanistan, offering Afghan students higher and secondary specialised education in 17 areas, including the Uzbek and English languages, physics and chemistry.
Uzbekistan considers the centre an important initiative in promoting the peace process in Afghanistan and is paying great attention to its development.
"On June 28, 96 graduates of the centre received bachelor's degrees in Uzbek language and literature," Eldor Aripov, director of Uzbekistan's Institute for Strategic and Interregional Studies, told the Uzbekistan National News Agency (UzA) July 16.
"Construction of a new wing with a 300-person dormitory is now complete. The preparation of proposals for the centre in Termez to offer new fields of study in high demand in Afghanistan has been approved," Aripov said.
This September, the centre will accept new Afghan students, he noted.
"The first requirement for learning in Termez is simply knowledge of the Uzbek language, since instruction is conducted in that language. We think that in the future we will have enough teachers capable of lecutring in other languages, for example, in Dari," said Sanjar Valiyev, Aripov's deputy, at a news conference in Tashkent on June 11.
The main goal of the educational project is to train Afghan specialists who will seek to co-operate with Uzbekistan, he said.
Friendship camp
In addition to teaching Afghan students at universities, Uzbekistan is trying to build ties between Afghan and Uzbek youth.
On August 20-24, a "Dustlik" ("Friendship") camp for young Afghans operated in Termez.
The Afghan guests took part in interactive classes on the Uzbek language and history, visited historical buildings and museums and played football in a friendly tournament, UzA reported.
"We are Uzbeks living on both sides of one river. We adopted this idea from our fathers and grandfathers," Fariso Shams Sodat, an Uzbek-Afghan from Mazar-e-Sharif, told UzA.
"We are delighted with our peers who welcomed us at the border with open arms. We quickly became friends with them," he said.