The death of "Islamic State" (IS) leader Abu Bakr al-Baghdadi during a US-led raid in Syria marks a pivotal moment in the war on international terrorism and will likely spell the beginning of the end of the once-powerful group, world leaders and analysts say.
The elusive IS leader was killed along with a large number of other IS militants in a nighttime raid by US special forces in northwest Syria, which culminated with al-Baghdadi cornered in a tunnel, where he detonated a suicide vest, killing himself and three of his children, confirmed US President Donald Trump Sunday (October 27).
"The thug who tried so hard to intimidate others spent his last moments in utter fear, in total panic and dread, terrified of the American forces bearing down on him," he said.
Al-Baghdadi's death has been reported several times over the years, but Trump said there was no doubt this time, with a DNA field test confirming his identity. The raiding team had both visual and DNA confirmation, said US Defence Secretary Mark Esper.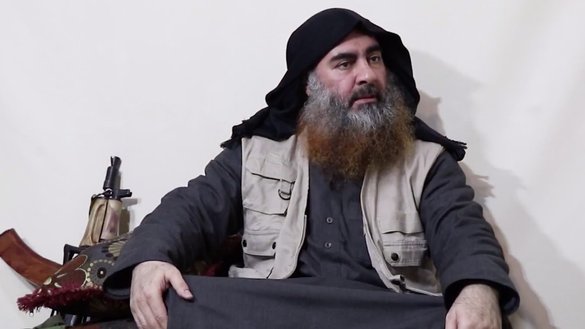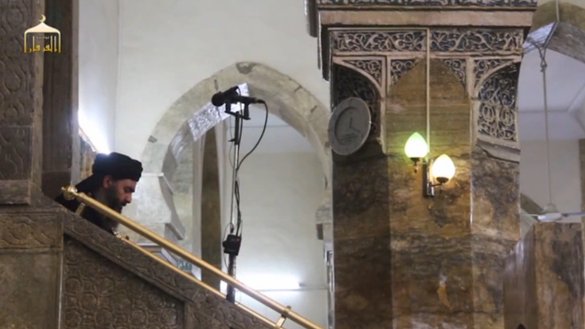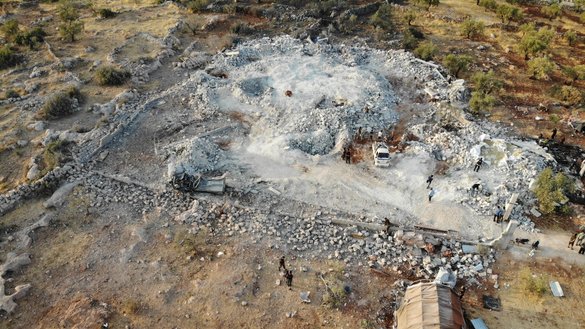 The operation involved eight helicopters flying more than an hour from an undisclosed base.
The Syrian Observatory for Human Rights had reported that US helicopters dropped forces in an area of Idlib Province, Syria, where they targeted a home and a car outside the village of Barisha.
The operation took place in co-operation with Russia, Syria, Turkey, Iraq and the Kurdish Syrian Democratic Forces (SDF), said officials.
Meanwhile, IS spokesman Abu Hassan al-Muhajir was "targeted in the village of Ain al-Baydah near Jarablus, in a co-ordinated operation between SDF intelligence and the US army", said SDF commander-in-chief Mazloum Abdi on Twitter.
The United States has confirmed al-Muhajir's death.
Huge blow, but fight continues
World leaders and analysts hailed al-Baghdadi's death as a major milestone in the fight against IS.
The operation was "a turning point in our joint fight against terrorism", said Turkish President Recep Tayyip Erdoğan on Twitter.
"The death of Baghdadi is an important moment in our fight against terror, but the battle against the evil of Daesh is not yet over," British Prime Minister Boris Johnson tweeted Sunday, using another name for IS.
"We will work with our coalition partners to bring an end to the murderous, barbaric activities of Daesh once and for all," he said.
"The death of al-Baghdadi is a hard blow against Daesh, but it is just a stage," French President Emmanuel Macron wrote on Twitter. "The fight will continue with our partners in the international coalition to ensure that the terror organisation is definitively defeated. It is our priority."
The international coalition against IS comprises 81 members (76 nations and five international organisations) and since 2017 has liberated more than 7.7 million people and 110,000 sq km across Iraq and Syria.
The death of al-Baghdadi "is important not only in reducing terrorist attacks and providing security to Afghanistan, but also to the security and stability of the region and the world", said a statement from the office of Afghan President Ashraf Ghani.
"With the disappearance of the Daesh leader, there will be chaos in the ranks of the group in Afghanistan and the financial and military resources of the group will continue to suffer," said Kabul Khan Tadbir, a military analyst based in Kabul.
Shafatullah Safi, a Kabul-based political analyst, agreed.
"After the death of Abu Bakr al-Baghdadi, IS's Khorasan branch in Afghanistan will face many problems. In the short term, it will have a negative impact on its fighters," said Safi. "In the long run, if its Khorasan branch does not pledge allegiance to the new caliphate, Daesh will split up into several divisions."
"In my judgment, the weapon supply chain and other logistic support to IS militants is overall a question mark for those joint efforts under way for the elimination of IS," said Maj. (ret.) Omar Farooq, an Islamabad-based security analyst.
"Al-Baghdadi was eliminated thanks to intelligence and assistance from a number of countries, which confirms the undeniable truth: the victory over terrorism is possible only through the joint efforts of various countries," said Bolatbek Isayev, a political scientist from Nur-Sultan, Kazakhstan.
"IS has many members from Russia and Central Asia. Naturally, they will try to go home, creating a dangerous situation," said Feliks Kulov, a former Kyrgyz prime minister and former chairman of the Kyrgyz State National Security Committee (GKNB).
Trail of bloodshed, brutality
After proclaiming himself "caliph" in July 2014, al-Baghdadi held sway over more than seven million inhabitants across swathes of Syria and Iraq, where IS implemented its brutal version of Islamic law.
In his only confirmed public appearance, al-Baghdadi spoke from the al-Nuri Mosque in Mosul, Iraq, in 2014, urging Muslims around the world to pledge allegiance to the so-called "caliphate".
That declaration unleashed a wave of violence that has since killed thousands of civilians, displaced millions more and drawn world powers into the region's conflicts.
Rarely seen even when IS was at the peak of its power, the Iraqi native -- believed to be around 48 years old -- virtually vanished as IS's territory shrank and as it was reduced to a disparate network of jihadist sleeper cells.
IS was declared defeated in Syria by a coalition of forces including Kurdish militia in March 2019.
Al-Baghdadi resurfaced in a video in April. Wearing a wiry grey and red beard and with an assault rifle at his side, he encouraged followers to "take revenge" after the group's territorial defeat.
Al-Baghdadi recently named Abu Abdullah Qardash, also known as Hajji Abdullah, as his successor, according to some rumours.
The end is near
Following IS's defeat in Iraq and Syria, the group attempted to make inroads in Afghanistan and other nearby countries through its Khorasan branch.
In May, IS announced the creation of "Pakistan Province" and claimed that its "Hind Province" branch attacked Indian forces in the Indian-ruled portion of Kashmir.
But Afghan and US forces have squashed IS's ambitions in the region.
"Unlike Iraq and Syria, IS hasn't gained ground and strength in Afghanistan because IS's beliefs go against those of Afghans," said Muhammad Ali Ahmadi, a former deputy governor of Ghazni Province.
"The Afghan and international forces have severely suppressed IS, and I think they have a robust plan in place to annihilate the group," said Maj. Gen. Zahir Azimi, a military affairs analyst in Kabul.
"Thousands of IS fighters, including their commanders, have been killed in Afghanistan, and death awaits those extremist Taliban fighters who are uninterested in peace and intend to join IS," he said in October.
Last December, even al-Qaeda issued a stunning rebuke of IS and al-Baghdadi, calling on Muslims everywhere to rise up and destroy the group.
"And today, after their influence waned and the danger they posed in the Levant lapsed, they sprout new branches in many arenas to which they brought scourges and calamities on the mujahideen and more corruption and criminality against the lands and their people," the statement begins.
"This group is emerging once again [in other parts of the world] to write another chapter of treason, treachery and servitude to dubious foreign agendas, demonstrating signs of being agents for and employed by international intelligence services."
"The battle is nearing its end."
[Sulaiman from Kabul, Abdul Ghani Kakar from Quetta, Aydar Ashimov from Nur-Sultan, Munara Borombayeva from Bishkek and Maksim Yeniseyev from Tashkent contributed to this report.]