TASHKENT -- Russian politicians and media are continuing to hype a supposed build-up of "Islamic State" (IS) militants in northern Afghanistan.
Those militants, whose existence is unproven, are preparing to invade Central Asia, according to that narrative.
In Central Asia, reactions to these statements have been muted and sceptical, as Central Asians view them as masking the Kremlin's desire to cement its military presence in the region.
The Kremlin narrative
About 2,500 to 4,000 IS militants are massed in Afghanistan "preparing a staging ground to invade Central Asia through Tajikistan and Turkmenistan", Nikolai Patrushev, secretary of Russia's Security Council, said in Tehran on December 18 without citing evidence.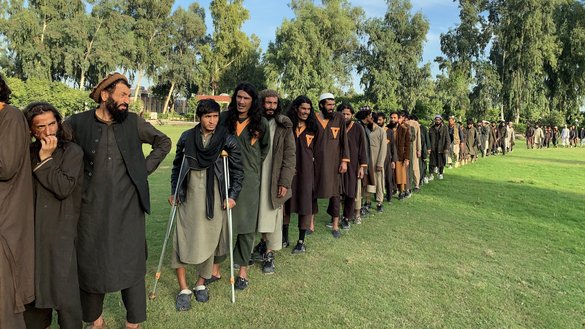 "The security situation in Afghanistan is unstable, like before, and is apt to deteriorate. The strengthening of [IS] arouses the greatest concern," said Patrushev.
IS is planning to create a "Greater Khorasan" in Afghanistan and Central Asia, while attacks could target infrastructure; security agencies, diplomatic missions and foreign citizens, said Patrushev.
Patrushev's words were backed up by Russian propaganda outlets like Sputnik and the Federal News Agency, which has been linked to the Internet Research Agency "troll factory" in St. Petersburg.
In December and January, these outlets attempted to convince Central Asians of a genuine threat coming from IS in Afghanistan, publishing materials by pro-Kremlin political analysts with strident headlines such as "Group from Asian Islamic State Could Take Hold in Afghanistan".
Uzbekistan skeptical
"Patrushev's statement didn't make the local headlines," Tashkent-based political scientist Valerii Khan told Caravanserai.
"Russian politicians are constantly getting up and saying things like this, but the [IS] 'threat' isn't at all on the agenda in Uzbekistan, for example," he said. "Instead, the media are widely covering the rehabilitation of extremists who are Uzbek citizens and the resistance to radicalisation. They're not covering this 'threat.'"
Throughout 2019, Russian spokespeople constantly invoked the spectre of IS, but their forecasts did not come to pass.
The first such reference in 2019 came in April from Russian Defence Minister Sergei Shoigu, who called Afghanistan an IS "staging ground" for an "expansion in the region".
On November 6, Zamir Kabulov, Russian President Vladimir Putin's special envoy to Afghanistan, told the newspaper Izvestia that IS was allegedly "redeploying militants to Central Asia".
Last September, Sergei Beseda, a high-ranking official in Russia's Federal Security Service, the successor to the KGB, even accused "US intelligence agencies" of being "complicit" in this "deployment".
"The facts paint a contrary picture," Khan said.
"Although the situation in Afghanistan remains challenging, and there's still a ways to go to national reconciliation, [IS] isn't playing a major role in this process."
IS in Afghanistan defeated
"No one believed one year ago that we would stand up and today be saying we have obliterated Daesh [IS]," Afghan President Ashraf Ghani said November 19 in Nangarhar Province, after more than 600 IS militants and their families surrendered there.
Afghan officials attributed the collapse of IS in the country to air strikes by Afghan and coalition forces and to the outfit's insufficient funding and low morale.
"It's not possible that they once again equip themselves in other areas of Afghanistan and threaten other parts of the country," VOA quoted Nangarhar Governor Shah Mahmood Miakhil as saying.
IS will not be able to revive itself in Afghanistan because of the complete collapse of its funding system, say security analysts.
A top US diplomat visiting Tajikistan noted the progress that security forces had made against IS in Afghanistan in 2019.
"As you've seen over the past year, efforts in Afghanistan have yielded significant progress, with Daesh [IS] virtually eliminated from Nangarhar Province, substantially reduced in Kunar, and the battle continues," said Principal Deputy Assistant Secretary of State for South and Central Asia Alice Wells in Dushanbe on January 8, according to a US embassy transcript.
Kremlin's real plans
Tellingly, the true objective of Russian officials' inflating the notion of an IS "threat to Central Asia" is evident, with officials not bothering to hide it.
Russia in 2020 will continue to enhance the combat capabilities of troops in its Central Military District (CMD), said Lt. Gen. Alexander Lapin, commander of the CMD, according to a December 27 article by Sputnik.
The CMD includes bases and units situated in Kazakhstan, Kyrgyzstan and Tajikistan. Last September, the CMD command held the Centre-2019 drills on training grounds in Russia and Central Asia.
The CMD's main training goals in 2020 are to raise the intensity of command training by 13% and that of combat training by 26%, said Lapin. The combat capability of CMD forces needs to rise by 5%, he added.
Russia is taking these actions in response to "the escalating threat of terrorist organisations that aim to infiltrate Central Asia through Tajikistan and Turkmenistan", Sputnik reported.
'Pretext'
The "IS threat" is merely a way for Russia to solidify its military presence in the region, say Central Asian analysts.
"This is characteristic rhetoric for Russian security agencies when they want to implement an agenda that serves Moscow," Murat Konokbayev of Bishkek, a former Kyrgyz diplomat, said in an interview earlier.
"[IS] is being cast as a bogeyman, like a scarecrow that a strict adult -- in this case Russia -- uses to frighten children, who are represented by the Central Asian countries," Kazakh journalist Ruslan Bakhtigareyev told the Kyrgyz newspaper Vechernii Bishkek on December 27.
"Russia wants to open a military base in Uzbekistan and yet another one in Kazakhstan. [IS] offers an excellent pretext for this goal," Kazakh political analyst Islam Kureyev also was cited by Vechernii Bishkek as saying.
Russian scaremongering over IS has antagonised Turkmen border officials as well.
"The devil isn't as scary as he is being portrayed" by Patrushev and other Russian officials, a Turkmen State Border Service lieutenant colonel identified only as Aidogdy told Caravanserai earlier.
Such statements are made with a single goal -- to sow fear and persuade Turkmenistan's leadership to buy Russian weapons, expand its military co-operation with Russia and join the Russian-led Collective Security Treaty Organisation, he said.